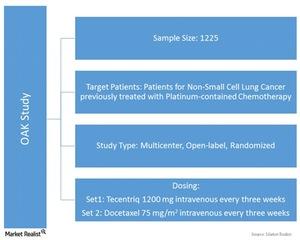 Doubtful about Roche's Bladder Cancer Treatment? Look at Studies
By Mike Benson

Sep. 16 2016, Updated 11:04 a.m. ET
Studies that support Tecentriq
As we discussed earlier in this series, Roche's (RHHBY) Tecentriq is a monoclonal antibody, a programmed death ligand-1 (or PD-L1) inhibitor that is already approved by the FDA for use in the treatment of bladder cancer.
Roche released data from its Phase III study, OAK, in its September 1, 2016, press release. Let's look at the outcome of the OAK study.
Article continues below advertisement
OAK study
According to the company's press releases, the OAK study is a Phase III study that compared overall survival, objective response rate (or ORR), progression-free survival (or PFS), and duration of response (or DOR) for Tecentriq with another drug, docetaxel.
In this study, the total sample size was ~1,225 patients who had already been treated for non-small cell lung cancer (or NSCLC) with platinum-contained chemotherapy. The patients were given either a dose of 1,200 mg Tecentriq intravenously every three weeks, or they were treated by a 75mg/m2 intravenous infusion of docetaxel.
The study continued until some disease progression was observed or there was unacceptable toxicity. The primary endpoint was overall survival rate, while the secondary endpoints included PFS, ORR, and DOR.
The data revealed improvement in the overall survival in patients that received Tecentriq as compared to docetaxel. According to its press release, Roche is expected to publish its full results at a medical conference in 2016.
Present status for Tecentriq
Roche (RHHBY) noted that Tecentriq was granted breakthrough therapy designation for use in the treatment of NSCLC. The FDA has granted a priority review to the biologics license application of Tecentriq with an action date of October 19, 2016.
Overall, there are eight Phase III studies evaluating Roche's Tecentriq for different forms of cancer.
Drugs for NSCLC include Bristol-Myers Squibb's (BMY) Opdivo, AstraZeneca's (AZN) Iressa and Tagrisso, and Merck's (MRK) Keytruda. These drugs and their performance are discussed in coming articles.
Investors can consider funds such as the iShares MSCI EAFE Growth ETF (EFG), which holds ~2.8% of its total portfolio in Roche Holdings.