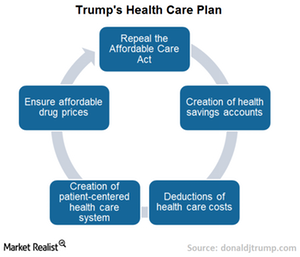 Analyzing Donald Trump's Free-Market Healthcare
By VanEck

Nov. 20 2020, Updated 11:10 a.m. ET
Trump has taken a broader, more sweeping approach. Trump's plan focuses on the repeal of the Affordable Care Act (ACA), commonly known as Obamacare, which some argue has resulted in higher premiums, less competition, and fewer choices. Similar to Clinton, Trump is calling for reduced barriers to entry. However, he would achieve this by allowing the import of safe, reliable, and cheaper drugs from overseas.[1. https://donaldjtrump.com]
Article continues below advertisement
Market Realist – Trump aims to repeal the Affordable Care Act
While Hillary Clinton aims to retain and bolster the Affordable Care Act, Donald Trump wants to repeal and replace it with a new act that encourages free-market competition. Repealing the Affordable Care Act would eliminate the need for every person to purchase healthcare coverage. Trump aims to address this issue by allowing healthy competition among health insurance companies. It could lead to affordable healthcare costs and increase customer satisfaction.
Cost control measures
Trump aims to control drug prices (XPH) (IHE) by boosting free-market competition. He plans to facilitate easy access for drug companies (PPH) (PJP) into markets by removing entry barriers. However, he's also in favor of holding the companies accountable if there's a sharp rise in prices. Trump proposes to allow consumers easy access to cheaper imported drugs (GNRX). His campaign statement said, "Remove barriers to entry into free markets for drug providers that offer safe, reliable, and cheaper products."
Tax benefits
Trump proposes to allow health insurance premiums to become fully tax deductible for taxpayers. He argues that since businesses are eligible to take these deductions, it should be available to taxpayers as well.
In order to encourage young people to buy higher deductible insurance plans, Trump proposes to make all contributions to Health Savings Accounts tax free. They could be accumulated over time. They could be passed on to successors without any penalty.