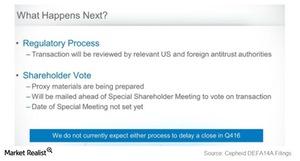 DHR to Reap $200 Million in Cost Synergies, Revenue through Buy
By Shannon Black

Updated
Danaher's synergy targets on the Cepheid acquisition
Danaher (DHR) says it has identified $100 million in cost synergies and another $100 million in revenues over the next five years. Some of the cost benefits are expected to be realized in reducing material costs by sourcing across its businesses and reducing sales, marketing inefficiencies, and back office costs.
As we saw in the previous part of this series, Cepheid's selling, general, and administrative expenses are 4.0 percentage points higher than Danaher's. These are expected to be reduced to current Danaher levels. Since Cepheid stock (CPHD) will be delisted after the closing of the transaction, Danaher also expects to save on public company costs.
Danaher also thinks of Cepheid as a highly innovative company that hasn't thought a lot about price when it comes to sales. Gross margins are expected to increase from 50% of sales to 55% over a five-year period. Cepheid's management had targeted gross margins of about 57%– 58% in fiscal 2017.
Article continues below advertisement
So Danaher's target seems fairly reasonable. By the fifth year after the acquisition, return on invested capital is expected to be in the high single digits. In fiscal 2017, the company expects the acquisition to be accretive by about $0.05 per share. It expects accretion to grow gradually to $0.30 per share in the fifth year.
Precedents to Danaher's Cepheid acquisition
It's important to note that Danaher's plan to operationally turn Cepheid around isn't without precedent. In 2006, Danaher acquired a slightly smaller business called Vision BioSystems for $520 million, or roughly five times its revenues. Similar to Cepheid, Vision's return metrics were poor. However, currently, the business generates about $800 million in revenues and has an operating margin of about 20%.
For insights on excess returns and a business analysis of Danaher, you can read Should Danaher Corporation Be a Part of Your Portfolio? and Danaher's Pall Corp. Buy Still Breathing Life into Its Business.