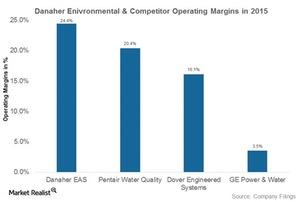 Danaher's Environmental Segment Is a Cut above the Rest
By Shannon Black

Updated
Danaher's Environmental & Applied Solutions segment
Danaher's Environmental & Applied Solutions unit was responsible for 25% of the company's sales in 2015. Its share of total company revenues was reduced to 22.2% due to the integration of Pall in the Life Sciences unit. The Environmental & Applied Solutions business had a core revenue growth of 4.5% in 2015. Organic growth has been slow this year, at just 2% in 1H16. The unit is distinct from Danaher's healthcare (IHF) units as it is more focused on industrial (XLI) end markets. Therefore, the segment is susceptible to pressures from the global slowing of the industrial market.
Article continues below advertisement
Danaher's Environmental & Applied Solutions (DHR) unit had by far the best operating margins among all units. The unit had operating margins of 24.4% in 2015. In 1H16 operating margins were slightly lower at 23%, though still impressive. GE Power & Water (GE), Pentair Water Quality (PNR), and Dover Engineered Systems (DOV) are some of Danaher's competitors in this business.
Operating margins: Peer comparison
Danaher's operating margins are the best in its peer group. Pentair water quality comes in second, with operating margins of 20.4% in 2015 and 17.9% in 2014. Dover Engineered Systems, a major competitor in the product identification business, had operating margins of 16.1% in 2015. Dover's margins in the segment are dragged down by some of the other product offerings in its business. Finally, GE Power & Water languishes at the bottom, with operating margins of 3.5%, 4.7%, and 4.9% in 2015, 2014, and 2013, respectively. Although some of the variance in margins is due to idiosyncratic differences in the offerings, these units offer the best comparisons among public companies with available data.
This ends the second series of our company overview of Danaher. In the third series, we'll look into some of its capital allocation decisions, cash earnings, shareholder returns, and asset quality.