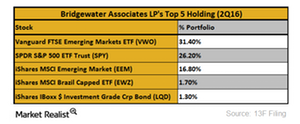 Dalio's Bridgewater Associates Increased Its Holdings in EWZ
Bridgewater Associates' top holdings
Ray Dalio sees a dangerous situation shaping up in the debt market (BND). He also believes that we are at the end of the long-term debt cycle. We could face an even lower growth rate than what we're used to.
Ray Dalio increased his firm's holdings in the iShares MSCI Brazil Capped ETF (EWZ) in 2Q16. This ETF tracks the performance of Brazilian equities. According to the 13F filing, it was the firm's largest buy in the second quarter of 2016. The firm held 4.2 million shares of EWZ worth $143.4 million as of June 30, 2016. Bridgewater Associates is the eighth-largest investor in EWZ. The first largest investor in EWZ is the State of Tennessee's Treasury Department with 7.7 million shares worth is $252.5 million.
Article continues below advertisement
Brazil's equity market continued its strong performance despite the fall in commodity prices. EWZ has returned nearly 64% on a YTD basis as of September 16, 2016. The change in Brazil's growth model has been driving its performance. The contribution of the service sector to its GDP has been increasing while the contribution of the industrial sector has been declining. The increase in service sector contributions is driving the performance of the index. Read How Brazil's Growth Model Is Shifting to learn more.
In 1Q16
The firm has an optimistic view on emerging markets (EDC) (IEMG). In 1Q16, Bridgewater Associates had 32.8% of its holdings invested in the Vanguard FTSE Emerging Markets ETF (VWO) and another 18.6% in the iShares MSCI Emerging Markets (EEM). Thus, Bridgewater's sizable holdings in emerging markets reflect its optimistic view.
In 2Q16
In 2Q16, the firm sold a minor portion of its holdings in the Vanguard FTSE Emerging Markets ETF (VWO). However, it still holds 70 million shares of this ETF. During the quarter, the firm allocated 31.4% of its portfolio to its Vanguard FTSE Emerging Markets ETF (VWO) holding, which was worth $2.7 billion. Plus, the firm allocated 16.8% to its iShares MSCI Emerging Markets (EEM) holding, which was worth $1.4 billion in 2Q16.
You may be interested to read Bill Miller: Buy the S&P 500 and Short the 10-Year Treasury.