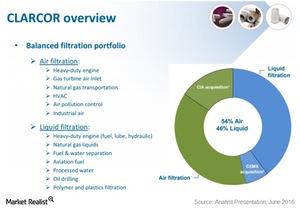 Clarcor to Become Sole Supplier for GE Filtration System
By Shannon Black

Updated
Clarcor enters into a long-term agreement with General Electric
In its 3Q16 earnings, Clarcor (CLC) announced that it had entered into a ten-year agreement with industrial conglomerate (XLI) General Electric (GE) to become the sole filtration supplier to its H-class power turbine. The agreement also has provisions for complementary redevelopment, which allows Clarcor to work and support GE in developing the next generation air inlet filtration system for the H-class platform. GE's H-class gas turbine is one of the world's largest and most efficient turbines in the business. Clarcor had acquired the air filtration business from GE in December 2013, and it worked for nearly a year to clinch this deal.
Article continues below advertisement
The deal is an aftermarket opportunity for Clarcor
The economics of this deal are along the lines of original equipment sales in the aerospace industry (ITA). In our overview of the business model of Honeywell Aerospace (HON), we discussed how the company bids aggressively for equipment wins and then benefits from a steady stream of high-margin aftermarket revenues. Some of the other aerospace companies such as United Technologies (UTX) and Rockwell Collins (COL) follow a similar business model. In Clarcor's case, the company will be providing the smart parts (filters and other components) to GE at a discount to cost. The company expects to realize a sizable aftermarket benefit starting four years after the sale of the original equipment.
To offset some of the costs coming out of those incentives, Clarcor has signed an additional agreement to supply filters on non-H-class turbines as well. Since this is not a sole-sourced agreement, the company will realize revenues at normal pricing.