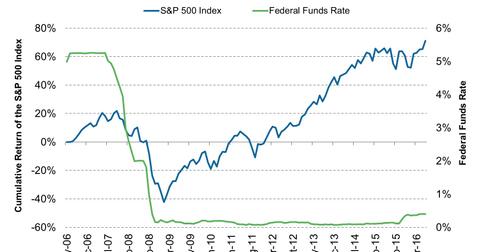 Carl Icahn: Either Way, the Market Will Face a Serious Problem
By Sarah Sands

Updated
If the Fed doesn't raise rates
According to Carl Icahn, if the Fed doesn't raise rates, then it indicates that we're in a great bubble. This shows that the market (SPY) (VFINX) has been fueled by the Fed's lower interest rates. The rally in the market is an artificial bubble created by the Fed's lower interest rates.
The S&P 500 index (SPY) rose nearly 190% since February 1, 2009, when the global financial crisis impacted the market. The index made its top as of September 13, 2016. Since then, the Fed has been maintaining its zero interest-rate policy strategy. In the last seven quarters including 2Q16, we also saw that the earnings growth of the S&P 500 Index (IVV) (VOO) fell nearly 5.6%.
Article continues below advertisement
The rate hike is appropriate in the economy when the economy shows a stronger path. If the Fed is delaying its gradual rate hike process, it indicates that we have a serious problem—the economy isn't showing any stronger move in terms of investment and consumption. In US Business Investment Is Falling: Will Lower Rates Support It? we saw that the business communities in the US (VFINX) (IWM) aren't expanding their capital investment or their production capacities.
If the Fed raise rates
Icahn said that if the Fed raises rates, we'll still have a major problem. The rate hike will strengthen the movement of the US Dollar Index (UUP). The stronger dollar is a big threat to the country's exports. In the past, we saw that the stronger dollar hampered the earnings of the S&P 500 index.
On a quarterly data basis, the US Dollar Index touched its all-time high of 119.47 in 2Q01. The S&P 500 index's (VFINX) earnings fell by 22.50% from the high in September 2000 to the low in June 2002. After the Fed ended its quantitative easing program in October 2014, the US dollar strengthened due to expectations of a gradual rate hike. The US Dollar Index (UUP) rose by 11% from October 2014 to September 9, 2016. In the last seven quarters, earnings have fallen 5.6%.
Whether or not the Fed raises the interest rate, the current market environment is showing dangerous signs. In the next part of this series, we'll analyze Carl Icahn's view on Herbalife.