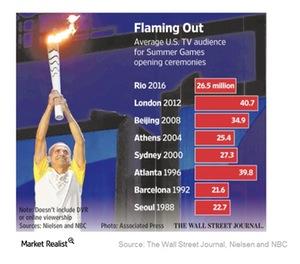 Did the Rio Olympics Broadcast Work Out Well for Comcast?
By Shirley Pelts

Dec. 4 2020, Updated 10:53 a.m. ET
Rio Olympics had lower-than-expected viewership
On August 25, 2016, FierceCable, citing Nielsen's Total Audience Metric, reported that Comcast's (CMCSA) broadcast of the Rio Olympics didn't draw in as many viewers as expected. According to Nielsen data, Comcast's NBCUniversal television networks' broadcast of the Rio Olympics drew in around 26 million viewers over the 17 days of the Rio Olympics, a decline of 15% over the viewers that the London Olympics in 2012 had.
Article continues below advertisement
The FierceCable report also states that Comcast had to "give additional ad inventory away to sponsors during its Closing Ceremonies coverage to make up for a fairly wide ratings shortfall." The lower-than-expected viewership for the Rio Olympics is bad news for Comcast, as the company was heavily banking on the Olympics broadcast to boost its advertising revenues.
Advertising and the Rio Olympics
Despite lower viewership, Comcast has already reached the milestone of $1.2 billion in advertising sales for the Rio Olympics on a national basis. The company stated in its fiscal 2Q16 earnings call that these ad sales were around 20% higher than ad sales during the London Olympics in 2012.
The company further elaborated on how it earns revenues from the Olympics. "We make money a lot of different ways in the Olympics. We have national advertising which is what I was just referring to. We also have a lot of advertising in our own stations. We get paid an affiliate fee by cable and satellite and telco operators and then we have a very big digital business."
Comcast also mentioned that it earned revenues of around $120 million from the London Olympics and expects to earn more from the Rio Olympics.