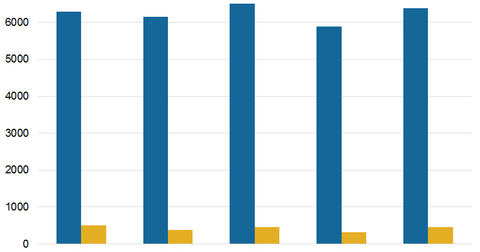 Berkshire's Services May Make a Dent in Wells Fargo in 3Q16
By Robert Karr

Sep. 16 2016, Updated 3:04 p.m. ET
Berkshire's services
In 2016, Berkshire Hathaway (BRK-B) sold some of its shares in AT&T (T) and deployed funds in Wells Fargo (WFC). The company lost $1.4 billion after the Wells Fargo scandal surfaced and the bank was fined $185 million. The Consumer Financial Protection Bureau announced it was fining the bank because employees helped create 2 million fake accounts to meet sales quotas. Berkshire might see a depletion in the valuation of its financial portfolio, mainly due to the fall in Wells Fargo stock.
Revenues from Berkshire's Services and Retailing division rose to $6.4 billion in the June quarter compared to $6.3 billion in the prior year's quarter. Its profits fell to $457 million from $498 million during the same quarter of 2015.
Berkshire's Services and Retailing division continues to be one of the most profitable. However, profits have fallen over the past quarter, mainly due to a weak performance of services, partially offset by an increase in the retail category. Revenues in this division rose to $5.9 billion compared to $4.5 billion in 1Q15.
Berkshire reported an operating margin of 14.4%. In comparison, its competitors reported the following operating margins:
Together, these companies make up 6.5% of the Financial Select Sector SPDR ETF (XLF).
Financial holdings
Berkshire continues to add stakes in banks and companies that cater to retail customers such as credit card companies. In the June quarter, Berkshire's finance division reported a rise in revenues to $2.0 billion due to manufacturing, housing, and finance as well as transportation equipment leasing. The division's earnings before taxes rose to $583 million from $550 million in the prior year's quarter.
Berkshire Hathaway's major subsidiaries in the financials sector include the following:
Clayton Homes, the manufactured housing builder and financier
UTLX and XTRA Lease, transportation equipment manufacturing and leasing businesses
other leasing and financing businesses
Diversified operations
Berkshire Hathaway operates many subsidiaries in the service and retail industry. Its major businesses include NetJets, a provider of fractional ownership programs for general aviation aircraft, and FlightSafety International, a provider of high-technology training for aircraft operators.
Berkshire's retail division revenues rose to $3.8 billion in the June quarter compared to $3.6 billion in the prior year's quarter. The increases reflected the impact of the BHA and Louis acquisitions.
In the final part of this series, we'll evaluate Berkshire Hathaway's recent stock movement and valuation.
Article continues below advertisement