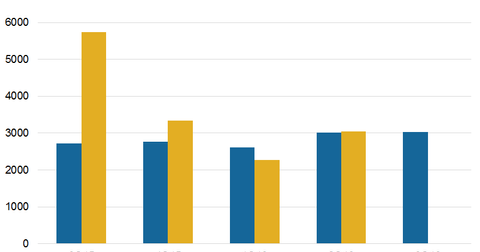 Berkshire's EPS Estimates Might Fall on Wells Fargo News
By Robert Karr

Updated
Estimates for Berkshire
Berkshire Hathaway (BRK-B) is expected to post EPS (earnings per share) of $3,035 in the September quarter. That's marginally higher than the previous quarter. Analysts have reduced the price target somewhat on stabilizing equities and an expected interest rate hike.
Berkshire lost $1.4 billion in valuations after the scandal related to Wells Fargo (WFC) unearthed. This came after the Consumer Financial Protection Bureau announced it was fining the bank $185 million because employees helped create 2 million fake accounts to meet sales quotas. Warren Buffett hasn't offered any comment on the news. Berkshire stock has fallen 3% over the past week.
Article continues below advertisement
In 2Q16, Berkshire reported EPS of $3,042. The analyst estimate for operating EPS was $3,010. The company also reported operating earnings of $4.6 billion, which was higher than $3.9 billion in 2Q15. These earnings rose partially due to the acquisitions of Precision Castparts (PCP) and Duracell Batteries. The rise was also affected by higher insurance underwriting revenues due to a unit that protects against major catastrophes.
The stock has fallen 1.5% over the past month and has risen 10% over the past year. In comparison, the S&P 500 (SPY) has fallen 2.7% over the past month and has risen 8.4% over the past year.
Buying businesses
Berkshire Hathaway, with a market capitalization of more than $352 billion, is a holding company whose subsidiaries engage in diverse business activities across sectors. Its subsidiaries operate in several major businesses, including the following:
insurance and reinsurance
freight rail transportation
utilities and energy
finance
manufacturing
service and retail
The company's investments are managed primarily by Warren Buffett, its CEO (chief executive officer), and Charles Munger, its vice chairman. Buffett purchased Berkshire Hathaway in 1965. At that time, the company was part of the textile business. Since then, it has gone through several transformations and is now engaged in the buying and managing of businesses.
Berkshire Hathaway competes with asset managers and insurance players (PFF), including MetLife (MET), American International Group (AIG), and BlackRock (BLK).
In this series, we'll take a look at Berkshire Hathaway's divisions, balance sheet strength, relative performance, and valuations. Let's start by analyzing the company's reinsurance business.