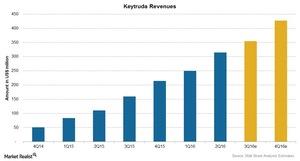 And Then There's Merck—Another Competitor for Roche in Oncology
By Mike Benson

Updated
Merck's Keytruda
Keytruda is an immuno-oncology drug from Merck (MRK). It is a human-programmed death receptor protein 1 (PD-1) blocking antibody. Keytruda reduces tumor growth by blocking the interaction between PD-1 and its ligands. The drug treats non-small cell lung cancer as well as melanoma, which is a type of skin cancer.
Merck launched Keytruda in 4Q14. Its global sales reported for 2Q16 were ~$314 million, as compared to $110 million for 2Q15.
Article continues below advertisement
Keytruda's uses
Keytruda is used for the treatment of melanoma that has spread or cannot be removed by surgery (advanced melanoma). This treatment is indicated when the medicine ipilimumab did not work or is no longer working, as well as when the tumor has an abnormal BRAF gene and the BRAF inhibitor did not work.
Keytruda is also used for non-small cell lung cancer when cancer has spread and tests positive for PD-L1, when chemotherapy containing platinum does not work, and when the tumor has an abnormal EGFR or ALK gene and the EGFR or ALK inhibitors did not work.
Other information
Keytruda's clinical development program is studying more than 30 tumor types in more than 160 clinical trials, which include over 80 combinations of Keytruda with other cancer treatments.
Keytruda competes with Bristol-Myers Squibb's (BMY) Opdivo. Roche's (RHHBY) Tecentriq, if approved, will impact Keytruda sales in the long run.
Some of the EGFR inhibitors used to treat various types of cancer include Iressa from AstraZeneca (AZN), Tarceva from Astellas Pharma (ALPMY), Tykerb from Novartis (NVS), Erbitux from Eli Lilly (LLY), and Vectibix from Amgen (AMGN).
Investors can choose ETFs such as the Vanguard FTSE All-World Ex-US ETF (VEU), which holds ~1% of its total assets in Roche Holdings.