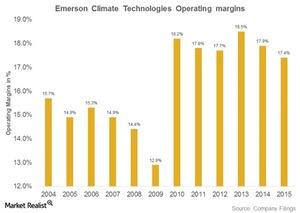 Analyzing Emerson 's Climate Technologies Segment
By Shannon Black

Updated
Emerson Climate Technologies product profile
Under its Climate Technologies segment, Emerson Electric (EMR) provides compressors, thermostats, monitoring, and electronic control equipment used for HVAC (heating, ventilation, and air conditioning) applications in both commercial and residential settings.
The segment also provides facility management services to reduce energy and maintenance costs in large-scale retailers (XRT), supermarkets (RTH), and food service facilities. Since products are sold primarily to original equipment manufacturers, the company engages a direct sales force to carry out sales in the segment.
Article continues below advertisement
Revenues and margins of Emerson Climate Technologies
Emerson Electric's (EMR) Climate Technologies segment is larger than its Commercial & Residential Solutions segment. It was responsible for 15.0%–17.4% of annual sales from 2011 to 2015. Revenues in the Climate Technologies segment have been largely flat since 2011.
The construction industry (XHB) has a heavy hand in determining the demand for HVAC products. Declining construction activity led to a decline in the industry's market size from 2008 to 2013. However, the industry seemed to finally turn a corner in 2014. Climate Technologies sales have consequently increased from $3.9 billion in 2013 to $4.0 billion in 2015.
Operating margins in the segment hovered at 17.4%–18.5% from 2011 to 2015. Operating margins in 2015 and the first three quarters of 2016 were 17.4% and 18.9%, respectively. In 2015, the unit derived 55% of its sales from the United States and Canada, 23% from Asia, and 10% from Europe.
If you're interested in trading in dividend-based ETFs, you can consider the SPDR S&P Dividend ETF (SDY). Major holdings of SDY are HCP (HCP) with a weight of 2.7%, AT&T (T) with a weight of 1.8%, and Caterpillar (CAT) with a weight of 1.7%.