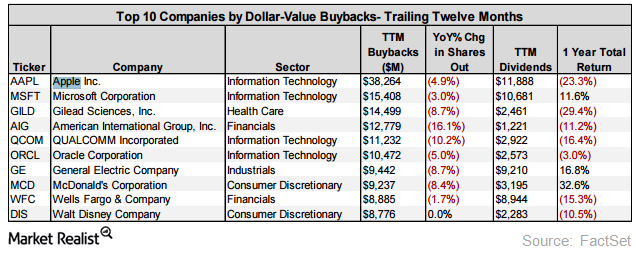 Adobe Continues to Lure Investors with Share Buybacks
By Anne Shields

Nov. 20 2020, Updated 4:43 p.m. ET
Cash, cash flow, and debt position
Earlier in this series, we learned that consistent improvements and growth in subscription revenues enabled Adobe (ADBE) to beat analysts' expectations in 3Q16. It held cash and short-term investments worth $4.3 billion as of June 3, 2016. It has a debt of $1.9 billion, which is entirely long-term.
Adobe's cash flow from operations stood at ~$518 million in fiscal 3Q16. Its deferred revenue grew 38% on a year-over-year (or YoY) basis to $1.8 billion, on the back of double-digit growth in its subscription revenues.

Article continues below advertisement
Adobe's solvency position is likely to remain strong
In fiscal 3Q16, Adobe bought approximately 3.4 million shares, returning ~$344 million in cash to its shareholders. Unlike peers SAP (SAP) and IBM (IBM), Adobe does not pay a dividend, which is good news for its investors as the company is not likely to resort to higher debt to fund its dividends. Less dependence on debt is better, as it translates to lower interest payments and the expansion of margins.
In 1Q16, among the top ten companies that spent the most on share buybacks, four were in the tech sector. Apple (AAPL) spent the most, followed by Microsoft (MSFT). Qualcomm (QCOM) and Oracle (ORCL) were the other two tech companies that made the top ten list.
The technology sector is the only sector in the S&P 500 with more cash than debt per share in 2015. Despite this, companies in this sector resort to bond issuance to borrow for dividends and buybacks. They do this because the majority of their cash is parked outside the United States. This explains why Apple, which has significant cash reserves, raised $1.0 billion in Australian bonds (EWA) in June 2016. Similarly, despite having significant cash reserves, Microsoft resorted to debt to fund its latest and largest-ever acquisition, that of LinkedIn (LNKD).
According to Investor's Business Daily, Cowen analyst Derrick Wood stated that "we remain bullish on ADBE given (1) its market dominance with creative professionals, with billions of annual revenue still not yet migrated to Creative Cloud; (2) its differentiated position with Marketing Cloud which we view as a key underlying technology for digital transformation initiatives; and (3) best-in-class margin profile for a growth company." Cowen has an outperform rating on Adobe's stock and increased its price target to $120 from $115.