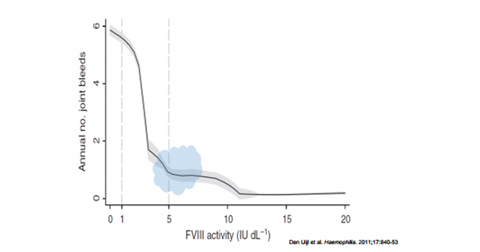 A Look at BioMarin's Early Stage Pipeline
By Jillian Dabney

Sep. 28 2016, Updated 7:05 a.m. ET
BMN-270: Gene therapy for hemophilia A
BioMarin's (BMRN) early-stage pipeline includes BMN-270, a gene therapy program for hemophilia A and vosoritide, which is indicated for achondroplasia.
To learn about the current treatment options for hemophilia, read The Evolution of Hemophilia Treatment—And What It Means for BioMarin.

Factor VIII infusion is one of the major treatment options for hemophilia. Currently, it costs ~$200,000 per year. As noted by BioMarin, there are around 90,000 hemophilia patients worldwide. As gene therapy could be a one-and-done treatment that's expected to replace FVIII infusion, BioMarin should enjoy premium pricing for BMN-270.
BMN-270's results were quite encouraging. With robust factor VIII expression, severe hemophilia patients moved to either the moderate, mild, or normal ranges of factor levels. 
With increasing factor levels, the bleeding rate decreases. If BMRN succeeds at launching gene therapy ahead of its competitors, its price could rise. For more information on BMN-270, read BMN 270: A Big Valuation Catalyst for BioMarin.
Article continues below advertisement
After BMN-270's encouraging Phase 1 and 2 data, BioMarin announced the initiation of its Phase 2b extended study in 2017. BMRN cited the construction of the manufacturing facility for gene therapy as the reason behind the delay in the trial. The facility will provide material for the clinical study and likely for promotional supplies afterward. Pfizer (PFE), Shire (SHPG), and Novo Nordisk (NVO) operate in the hemophilia space.
Vosoritide for achondroplasia
BMN 111 or Vosoritide is indicated for achondroplasia, a common form of dwarfism. The incidence rate for the disorder is ~1 in 25,000 live births. Vosoritide, which holds orphan drug designation in the United States and Europe, possesses a $1 billion revenue opportunity.
To diversify the risk of investing directly in BioMarin, you can look for options such as the iShares NASDAQ Biotechnology ETF (IBB). IBB has 2.9% of its total holdings in BioMarin.
Continue to the next article for an update on analysts' recommendations for BioMarin.