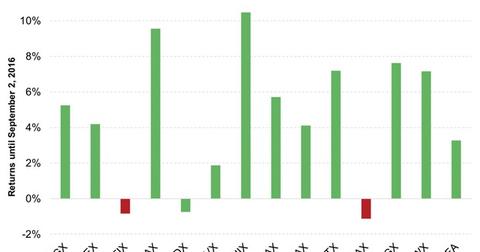 2016 Has Been a Testing Time for International Funds
By David Ashworth

Updated
International funds: The center of the action
With one-third of 2016 yet to go, international funds (ACWI) (VT) have already had an action packed year. Events haven't been restricted to a specific region or market. They've been spread across hemispheres in emerging and developed nations. 
China can be credited with providing a shock right at the beginning of the year, when worries regarding the status of its economy spooked financial markets around the world.
Article continues below advertisement
From China, the focus moved to Europe in June 2016, when the United Kingdom voted to walk away from its membership in the European Union—an outcome not predicted by many. The 'leave' vote, which has raised more questions than it has provided answers due to the unexpected result, could continue to affect financial markets as exit negotiations begin.
An unfavorable outcome of these negotiations for the United Kingdom could mean difficult times for banks such as Barclays (BCS), The Royal Bank of Scotland Group (RBS), and Lloyds Banking Group (LYG).
The United States has had an eventful 2016. Earlier, there was hope that up to five rate hikes would take place in the year. However, we're still looking for one, and right now, two hikes seem difficult, if not impossible. 
US economic growth and job additions have also given rise for some concern at different points throughout the year so far.
In this series…
The graph above shows the point-to-point returns of the 12 international mutual funds we'll be reviewing in this series. Most of these funds are ex-US or have very limited exposure to US securities.
We'll look in-depth at the portfolios of these funds individually and conduct attribution analyses to see which sectoral or stock picks have helped or hurt the funds. 
Apart from mutual funds, we've graphed the performances of two ETFs, the iShares MSCI ACWI ex U.S. ETF (ACWX) and the iShares MSCI EAFE ETF (EFA). This has been done to provide you with a passive fund comparison.
Let's begin our review with the American Funds EuroPacific Growth Fund Class A (AEPGX).