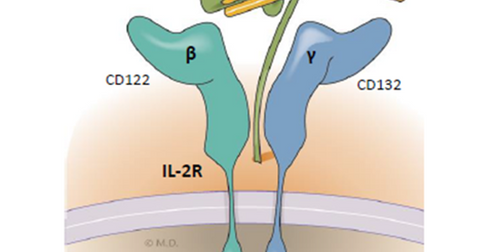 Could Zinbryta Become a Novel Immunomodulatory Therapy for MS?
By Margaret Patrick

Updated
Immunomodulatory therapy
AbbVie (ABBV) and Biogen's (BIIB) Zinbryta has managed to demonstrate superior efficacy for the treatment of multiple sclerosis (or MS) in two clinical trials, the SELECT study and the DECIDE study.
According to AbbVie's R&D (research and development) Day transcript, Zinbryta is "a humanized IGT-1 monoclonal antibody designed specifically to CD25 subunit of the interleukin-2 receptor."
The National Cancer Institute explains a humanized monoclonal antibody as "a type of antibody made in the laboratory by combining a human antibody with a small part of a mouse or rat monoclonal antibody. The mouse or rat part of the antibody binds to the target antigen, and the human part makes it less likely to be destroyed by the body's immune system."
Article continues below advertisement
The above diagram shows how Zinbryta helps to control MS relapses in patients. AbbVie explains, "In MS and other autoimmune disorders, interleukin-2 is often elevated leading to the symptoms that are exhibited. By selectively blocking high affinity IL-2 receptors, Zinbryta inhibits activated effector T-cells, expands immunoregulatory CD56brightNK cells, and decreases the activity of T regulatory cells. Overall, Zinbryta is associated with immunomodulatory effects without broad immune cell depletion."
The novel mechanism of Zinbryta is expected to enable the drug to pose tough competition to other MS drugs such as Novartis's (NVS) Gilenya and Teva Pharmaceuticals' (TEVA) Copaxone.
Clinical trials
The SELECT study evaluated Zinbryta's efficacy by comparing two dosages, 150 mg and 300 mg, administered monthly with a placebo, for 52 weeks. At both dosages, Zinbryta managed to demonstrate a reduction of 50% or more in annualized relapse rates.
In the DECIDE study, a 150 mg single dose of Zinbryta was compared with a dose of Avonex. Compared to Avonex, Zinbryta managed to demonstrate 45% lower MS relapse rates. Additionally, both trials confirmed that the use of Zinbryta resulted in a lower risk of disability progression.
With high efficacy and manageable side effects, Zinbryta is expected to capture a significant portion of the MS market. This could boost AbbVie's share price as well as the price of the SPDR S&P Biotech ETF (XBI). AbbVie makes up about 2.4% of XBI's total portfolio holdings.
In the next article, we'll explore growth prospects for AbbVie's investigational women's health drug Elagolix.