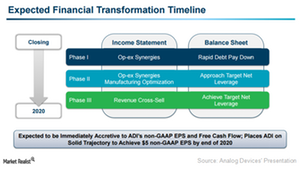 How Much Will ADI's Acquisition of Linear Technology Impact Its Earnings?
By Puja Tayal

Aug. 22 2016, Updated 5:59 p.m. ET
What LLTC acquisition means to ADI's shareholders
Analog Devices (ADI) plans to suspend its share buyback program and channel that amount toward debt repayment after it purchases Linear Technology (LLTC). While this may not sound like good news to shareholders, the merger will likely bring in revenue and cost synergies and put the combined entity in a stronger position to compete with Texas Instruments (TXN), leaving shareholders to benefit from a share price increase.
Article continues below advertisement
Impact on ADI's earnings
ADI expects to complete the LLTC acquisition by fiscal 2H17. The acquisition would be immediately accretive to ADI's non-GAAP (generally accepted accounting principles) EPS (earnings per share) and FCF (free cash flow).
The two companies have complementary product portfolios, and they largely cater to three broad markets of industrial, automotive, and communications infrastructure. The merger would bring annual cost synergies of $150 million within 18 months from the close of the transaction.
Profit margins
In the first phase, cost savings will come from a reduction in R&D (research and development) and SG&A (selling, general, and administrative) expenses as the two companies serve similar markets. This would improve ADI's operating margin from 34% to 38%. In the second phase, cost savings will come from optimum factory utilization, which should improve ADI's gross margin from 66% to 69%.
However, the large debt taken out to fund the acquisition would add an interest burden of $80 million every year until the debt is repaid. The non-GAAP EPS would increase, but the growth rate would be lower than that of operating and gross profits.
Revenue
The third level of benefit—one that will be visible at a later stage—would be incremental revenue arising from cross-selling opportunities. The combined company created from the merger of ADI and LLTC would have an enterprise value of $30 billion and annual revenue of $5 billion.
But the impact of the LLTC acquisition will not likely be visible until fiscal 2H17. In the more immediate future, ADI expects revenue to improve sequentially in fiscal 4Q16 but to remain weak on a YoY (year-over-year) basis.
Continue to the next part for a discussion of the investor response to ADI's fiscal 4Q16 guidance.