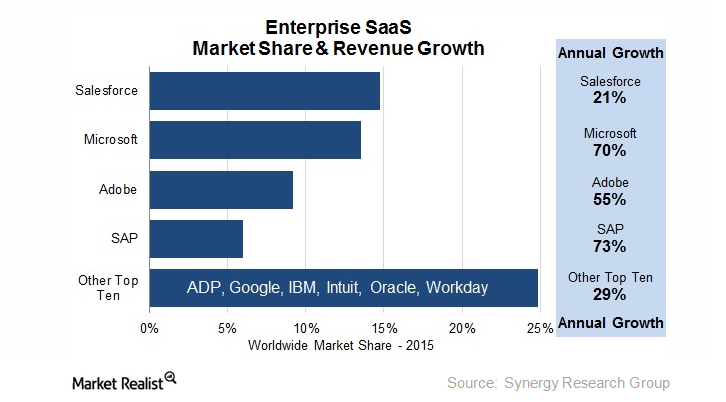 Could BeyondCore Heat up the Competition between CRM and MSFT?
By Anne Shields

Aug. 29 2016, Updated 10:04 a.m. ET
Salesforce's growing competition with Microsoft
Earlier in this series, we discussed BeyondCore's acquisition by Salesforce (CRM). In this article, we'll discuss how the BeyondCore acquisition is likely to fuel the competition between Salesforce and Microsoft. Prior to the buyout announcement by Salesforce, BeyondCore developed apps. Its BeyondCore Analyst for Office app allows Microsoft users to leverage its potential and capabilities from within the MS Office offerings. However, following the acquisition, BeyondCore's working relationship might change with Microsoft.
Prior to BeyondCore, Salesforce announced the Quip acquisition, which aims to enhance the company's position in the office suite, productivity, and collaboration space. As we know, Microsoft Office 365 dominates the office suite space.
These acquisitions hint towards Salesforce's growing intent to compete with Microsoft. It's known that Salesforce was a contender for LinkedIn (LNKD) before Microsoft (MSFT) made the final offer. Salesforce's bid forced Microsoft to raise its offer price for LinkedIn.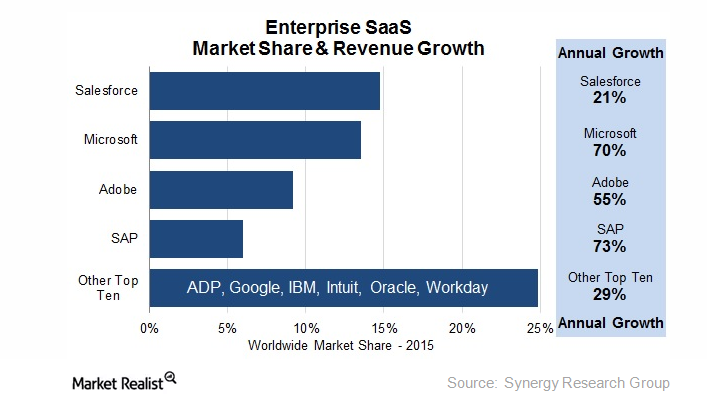 Article continues below advertisement
Microsoft recorded the highest growth in the cloud space in 2015
Earlier in this series, we learned that although Salesforce leads the SaaS (software-as-a-service) space, it recorded the lowest growth in 2015. On the other hand, Microsoft not only recorded 70% growth, but was also able to improve its market share by three percentage points.
Although Amazon (AMZN) leads the overall cloud space, Microsoft recorded the highest growth in the cloud space in 2015, expanding by 128%. As Microsoft is keen on making inroads in the cloud space, Salesforce's leadership position might be in jeopardy. Considering Salesforce's recent acquisitions and lower-than-expected growth, it appears the company is keen to enhance its growth in the cloud space.