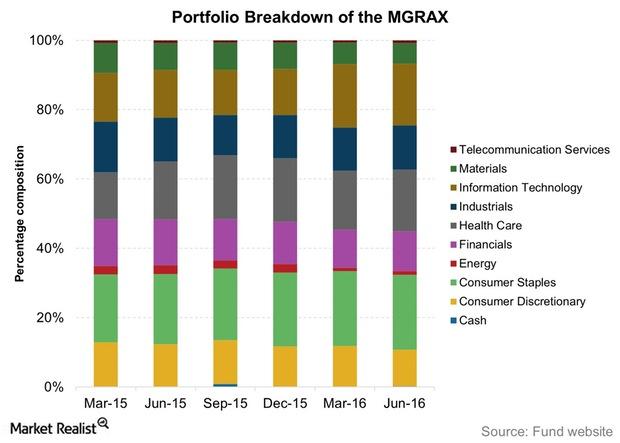 What's the Sector Composition of the MFS International Growth Fund?
By David Ashworth

Aug. 26 2016, Published 5:39 p.m. ET
MFS International Growth Fund overview
The MFS International Growth Fund invests in "well-run non-U.S. businesses capable of generating sustainable growth." The fund managers look for companies with strong fundamentals, superior management, and a sustainable competitive advantage.
The fund can invest a large portion of its assets in issuers from a single country, group of countries, or region. The fund invests across market caps and employs the bottom-up approach to stock selection. The fund's assets were spread across 84 holdings as of July 2016, and the fund was managing assets worth $4.2 billion. As of July, its equity holdings included Accenture (ACN), Danone (DANOY), Mettler-Toledo International (MTD), NICE (NICE), and HDFC Bank Limited (HDB).
Article continues below advertisement
Portfolio changes in the MFS International Growth Fund
Unlike most other funds in this review, the most invested sector of the MGRAX is consumer staples, which forms over a fifth of the fund's assets. Information technology and healthcare have equal weights in the portfolio. The fund is not invested in the utilities sector.
Excluding the United Kingdom, stocks from Europe, spanning nine nations, account for 47.6% of the portfolio. UK stocks form 16% of the assets. Meanwhile, US stocks form 4.4% of the assets.
We've looked at the quarterly portfolios of the MGRAX for the past three years. The firm has consistently reduced exposure to consumer discretionary stocks during the period, while it has mostly maintained its exposure to consumer staples stocks. On the other hand, the weights of healthcare and information technology sectors have seen a noticeable rise. Energy stocks have seen a sharp drop in the portfolio weight during the period.
How has the MFS International Growth Fund – Class A (MGRAX) fared in YTD 2016? Let's look at that in the next article.