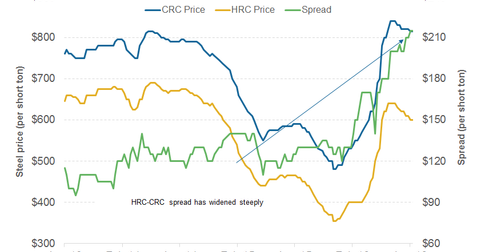 What's Keeping US Cold Roll Coil Prices Elevated This Year
By Mohit Oberoi, CFA

Updated
Steel types
Two of the most used steel products are hot rolled coil (or HRC) and cold rolled coil (or CRC). CRC is typically priced higher than HRC. Because of its lower cost, hot rolled steel is more widely used in mass applications.
Article continues below advertisement
Cold roll coil
Cold rolled steel, on the other hand, is a finished version of steel (DBC). It's used when a better surface finish is required. Typical applications include automotive bodies.
ArcelorMittal (MT) is the leading steel supplier for the automotive sector. AK Steel (AKS) is another major supplier for US automotive companies (GM). Nucor (NUE) is also trying to expand its presence in this lucrative market.
The graph above shows the spread between spot HRC and CRC prices as estimated by the Metal Bulletin. In the last five years, the average spread between HRC and CRC prices has been ~$120 per short ton. We saw the spread falling to a low of $90 per short ton in April 2013. Currently, the spread is $215 per short ton, the highest we've seen in a long time.
Mean reverting
The spot HRC-CRC spread has generally been mean reverting. In April 2014, spreads crossed $140 per short ton as CRC prices rose out of proportion to spot HRC prices.
However, the spread returned to $120 per short ton by the next month, driven by the rise in HRC prices. Again in January 2015, the spread widened to $140 per short ton due to the downward correction in spot HRC prices. However, by April, the spread again reverted to $120 per short ton as CRC prices fell.
In the next part of the series, we'll explore what's driving the historically high spread between HRC and CRC prices.