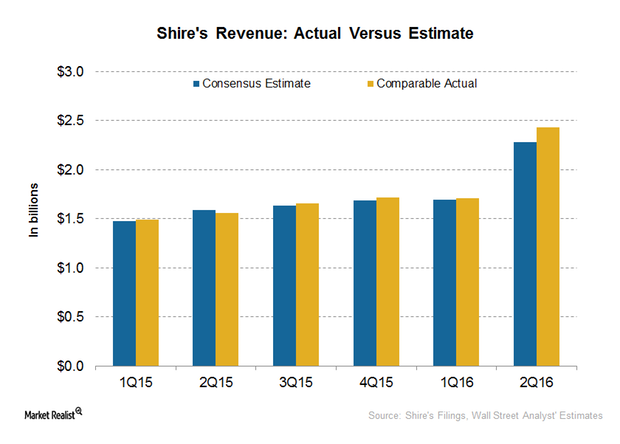 What's behind Shire's 2Q16 Earnings Surprise?
By Jillian Dabney

Aug. 4 2016, Updated 4:48 p.m. ET
Shire beat revenue estimate by 5.3% in 2Q16
Shire (SHPG) reported its 2Q16 earnings on August 2, 2016. Wall Street analysts expected revenue of ~$2.3 billion, but Shire surprised them with sales of $2.4 billion.
This impressive result with its 6.6% revenue surprise pleased the Market, and Shire shares rose to $202.24 from the earlier day's closing price of $194. The increase translated to a 4.2% upswing in a single day.
Barring exclusions, Shire has always been at par with analyst expectations. But this time, it beat expectations significantly. A consolidation of Baxalta led Shire to report robust revenue growth of 58% on a constant exchange rate basis in 2Q16.
For details on Shire's Baxalta acquisition, please read How Could Baxalta Acquisition Become a Catalyst for Shire?
Article continues below advertisement
On a pro forma sales basis, individual businesses of Shire and Baxalta witnessed 19% and 12% growth, respectively, in 2Q16. In the next part of this series, we'll look at Shire's revenue drivers in detail. If you want to take a look at Shire's lead drugs, you can refer to What Are Shire's Flagship Products?
Net income rose 9.7% in 2Q16
Wall Street analysts projected Shire to report net income of $704.5 million. The company reported non-GAAP (generally accepted accounting principles) net income of $773 million in 2Q16. Non-GAAP diluted earnings per ADS (American Depositary Share) increased to $3.38 in 2Q16.
Shire's transformation to a biotechnology company makes Alexion (ALXN), Celgene (CELG), and Roche (RHHBY) its competitors.
Investors should note that direct equity investment is highly risky. To reduce such risk, you can invest in ETFs such as the First Trust US IPO ETF (FPX). Shire accounts for 5.3% of the fund's total holdings.
In the next part, we'll take a look at Shire's segmental performance in 2Q16.