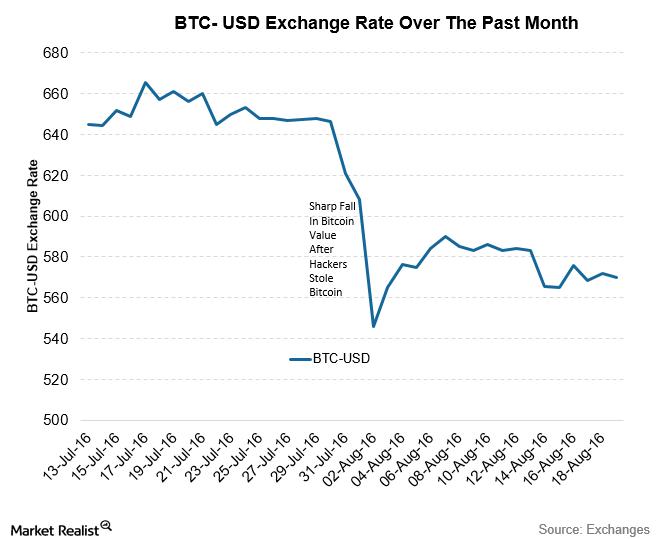 Warning about Another Attack on Bitcoin: Will Prices Fall?
By David Meyer

Aug. 19 2016, Published 8:17 a.m. ET
Bitcoin fell by 1.3%
Bitcoin is one of the most commonly used digital currencies. For more details on the history and evolution of bitcoins, read How Bitcoins Have Evolved. It suffered a sharp fall on August 3 when hackers stole $65 million worth of bitcoins from the Bitfinex exchange. For more details on the bitcoin heist, read Bitcoin Prices Fall, Hackers Reportedly Stole Bitcoins Worth $65 Million.
The bitcoin-US dollar pair fell by 1.3% on August 17 after a release from bitcoin.org asking customers to be wary of another potential attack on its new update.
Article continues below advertisement
Will hackers target bitcoin again?
Markets are expecting more downside in digital currency prices after bitcoin.org released a warning on August 17. The release suggested that the upcoming bitcoin core will likely be targeted by state-sponsored attackers. Although no more information on the source of the information was revealed by bitcoin.org, investors are cautious. The recent attack was the main reason for the fall in prices on August 17.
Impact on bitcoin-related stocks
Companies like WPCS International (WPCS) are among those that are the most sensitive to updates on bitcoins. It owns a bitcoin trading platform. It had a sharp fall of 7.7% after warnings of a potential attack were released on August 17. Other stocks that would be impacted are pro-bitcoin companies like Tesla Motors (TSLA), Zynga (ZNGA), and eBay (EBAY).
Looking at major e-commerce companies, PayPal (PYPL) was trading near flat with a slight fall of 0.21% on August 18, while Alibaba Group Holdings (BABA) was trading flat. Groupon (GRPN) posted a slight rise of 0.18% on August 18 after falling over 3% in the past two days.