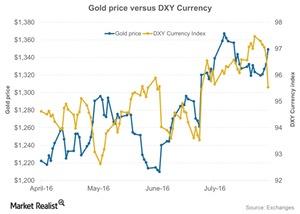 US Dollar Fell and Supported Precious Metals
By Meera Shawn

Aug. 2 2016, Published 9:57 a.m. ET
US Dollar tumbles
The US dollar retreated on Friday by 1.3% against the basket of six major world currencies. The US dollar is depicted by the DXY Currency Index. It measures the dollar's strength against a trade-weighted basket of six major currencies including the euro, the Japanese yen, pound, the Canadian dollar, the krona, and the franc. The US dollar retreated during the past month by ~2%.
The fall in the dollar often gives strength to precious metals. They're dollar-based assets that rise with weakness in the dollar.
The short-term comparative performances of gold and silver are shown in the following graph.
Article continues below advertisement
Dollar-denominated assets
As you can see in the above chart, they rose in July. Most of the days, they likely flow in the opposite direction. The correlation between gold and the DXY index has been -0.34 over the past year. A correlation of 0.34 indicates that about 34% of the time, the US dollar moves in the opposite direction from gold.
The US dollar and gold, or for that matter all precious metals, have a close-knit relationship. The strength of the US dollar weighs down dollar-denominated assets such as gold and silver. That's because investors in other currencies have to buy an expensive dollar against their home currency to invest in precious metals. The DXY index traded at 95.5 on Friday.