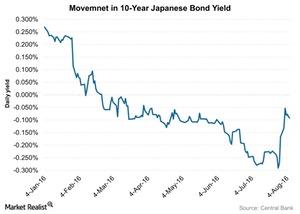 How Treasury Yields Reacted to Japan's Stimulus and BoE's Rate Cut
By Lynn Noah

Updated
Japan's fiscal stimulus
Treasury yields rose on August 2 after the Japanese cabinet approved 13.5 trillion yen ($132.04 billion) in fiscal measures to boost the staggering economy. The new package includes cash payouts to low-income earners and infrastructure spending. The yen (FXY) strengthened against the dollar while the ten-year Japanese bond yield fell after the announcement. However, market participants were disappointed with Japan's "modest" fiscal stimulus, as they were expecting a further cut in interest rates and an expansion of the bond purchase program.
Demand for US Treasury securities (TLT) (IEF) fell as the new fiscal stimulus measures by Japan pushed the Japanese government bond yields higher.
Article continues below advertisement
BoE's interest rate cut
Treasury yields fell after the Bank of England (or BoE) announced its bond-buying program and slashed interest rates for the first time since 2009. The BoE cut interest rates by 25 basis points to 0.25% and said it would buy 60 billion pounds ($80 billion) of government bonds over the next six months to support Britain's staggering economy post-Brexit. It also said it would buy 10 billion pounds ($13.3 billion) of corporate bonds over the next 18 months. The BoE said it expects to cut the interest rates closer to zero by the end of the year. Sterling fell 1.6% against the dollar to 1.31 pounds at the end of the US trading day on August 4 while yields on the UK corporate bonds fell to the record low of 0.65%.
With the UK yields falling, the demand for US Treasury securities rose. US Treasury securities (SHY) are further supported by sub-zero yields in most developed nations.
In the next article, we'll look at why Mohamed El-Erian and Bill Gross don't foresee a rate hike in September.