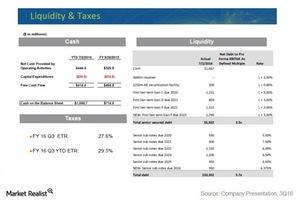 Transdigm Buys DDC, Its Second-Largest Deal Ever
By Shannon Black

Aug. 18 2020, Updated 3:41 a.m. ET
Transdigm's acquisition strategy 
Transdigm (TDG) has a clearly defined long-term acquisition strategy wherein it tries to look for companies with proprietary aerospace businesses with significant aftermarket content. Having spent a significant period of its existence under private-equity ownership, the company tries to seek out private-equity-like returns when it looks for acquisitive targets.
Article continues below advertisement
Transdigm acquires DDC
On May 24, Transdigm announced that it signed a definitive agreement to acquire DDC (Data Device Corporation) from Behrman Capital for a purchase price of $1 billion in cash. Transdigm completed this acquisition on June 23. It's the second-largest deal to date. It's within one month of signing the definitive agreement.
After the announcement of the acquisition, Transdigm raised $1.9 billion in new debt by the June 9. The weighted average rate on the new debt was 5.3% pre-tax and 3.5% after-tax. Transdigm used a portion of the proceeds to finance the DDC purchase. The company stated that it still had the capacity to make acquisitions to the tune of $1.5 billion without issuing additional equity.
About DDC
DDC is a leading supplier of software, data networking, power control, and motion control in the aerospace (XAR) and defense industry. DDC generates 75% of its business from the defense (PPA) market and the remaining 25% is from the commercial air transport market. Almost 70% of its revenues are in aftermarket services. Most of its revenues are derived from proprietary, sole-sourced products. This is an important characteristic for Transdigm. It's known for maintaining operating margins at ~40%. This would be very difficult for a company without intellectual property rights on its products. Recently, DDC products were selected on Boeing 777X (BA) and the Airbus 380 (EADSY) platforms.