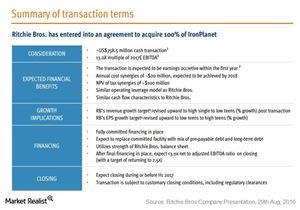 Ritchie Bros. to Acquire an Entity Backed by Caterpillar
By Shannon Black

Updated
Richie Bros. will acquire IronPlanet
Ritchie Bros. Auctioneers (RBA) is the world's largest industrial (XLI) auctioneer. The company auctions used equipment in the construction (XHB), agriculture (MOO), mining (PICK), and transportation industries. These include equipment for companies such as Joy Global (JOY), John Deere (DE), and Komatsu. On August 29, the company announced that it entered into an agreement to acquire IronPlanet—a private company backed by Caterpillar (CAT). Ritchie Bros. also entered into an alliance agreement with Caterpillar. We'll discuss this in the next part of this series.
Article continues below advertisement
IronPlanet is an online marketplace operator. It started out in 1999 as an alternative for people who weren't interested in sweating it out in an auction house. Caterpillar entered into a partnership with IronPlanet in 2000. However, Caterpillar's stake in IronPlanet is through its minority interest in Cat Auction Services which merged with IronPlanet in 2015. Cat Auction Services was a venture started in 2008 by a few independent dealers who were failing to sell used equipment on their own lots. Caterpillar—in its bid to capture every business stream surrounding its equipment from the cradle to the grave—picked up a minority stake in it in 2013.
Financial profile of IronPlanet
The deal between Ritchie Bros. and IronPlanet was valued at $758.5 million. IronPlanet sold $787 million of GMV (gross merchandise value) in 2015. GMV is the sales price charged to customers multiplied by the number of items sold. For example, if the company sells ten pieces of equipment for $10 each, its GMV would be $100. IronPlanet's GMV has grown at a compound annual growth rate of 25.2% from 2013–2015. In 1H16, the GMV is up 41% compared to the GMV in the same period last year.