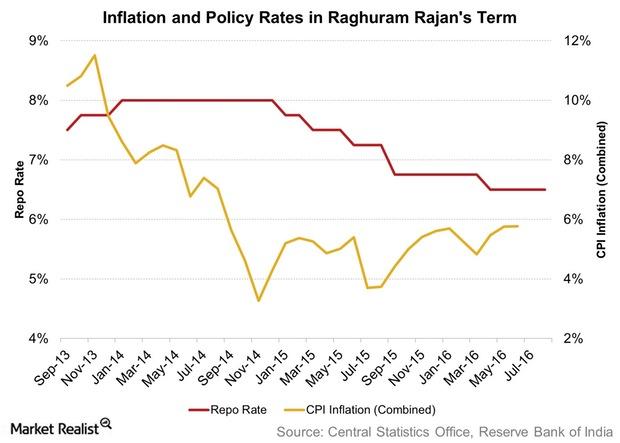 Reviewing Raghuram Rajan's Term as the RBI Governor
By David Ashworth

Aug. 10 2016, Published 11:16 a.m. ET
Astute policy management
Raghuram Rajan started his term as the 23rd governor of the RBI (Reserve Bank of India) on September 5, 2013. He will be completing his three-year term this September. He decided not to undergo the renewal process.
His appointment was celebrated with much fanfare. Although industry leaders weren't in agreement with all of his policy decisions, they were pleased with his astute policy management skills. Never afraid to speak his mind, Rajan brought the same attitude in his speeches and policy actions. As he leaves, he could be the last RBI governor to have decided on monetary policy. Going forward, India is going to have an MPC (Monetary Policy Committee) with one representative from the RBI, apart from RBI governor and deputy governor. Other members of the Committee will be outside members. Unlike in the past, policy decisions will be vote-driven rather than being directed only by the governor.
Article continues below advertisement
Interest rates and inflation
Rajan's most visible achievement during his term as the RBI governor is reigning in inflation. When he started his term, retail inflation was in double-digits. He was brought in with the mandate of taming inflation and he did. His term saw two repo rate increases for a combined 50 basis points. This helped bring inflation down from 11.5% at its peak to 3.3% in November 2014. This was followed by five repo rate cuts (HDB) (IBN) totaling 150 basis points.
His term saw the central bank formally introduce a target level for inflation and a modernization of the country's monetary policy framework with a constitution of the MPC. Counting the benefits of the overhaul of policy framework, Raghuram Rajan said in his opening remarks in the August post-policy press conference, "Some of the collateral benefits over and above low inflation will be a currency that is not depreciating constantly, higher real returns earned by savers, and lower nominal interest rates, including inflation risk premia, paid by borrowers."
Raghuram Rajan has achieved his main goal—curb inflation. His term wasn't just about academic policy making, but adopting a practical stance and ensuring that policy priorities are met regardless of demands by the industry (RDY).
In the next part, we'll look at how markets (ETGIX) (INDA) reacted to the RBI's August policy statement.