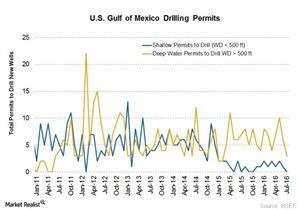 Recent Auction in Gulf of Mexico: Hope or Disappointment?
By Sue Goodridge

Updated
Disappointing auction
In the past week, the offshore oil and gas lease rights auction that took place in the Gulf of Mexico wasn't successful. Low interest in the sale highlighted the poor condition of offshore drilling.
The Bureau of Ocean Energy Management provided details about this auction. Only three offshore energy companies participated in the bidding. The total bid was a little more than $18 million, the lowest ever at a drilling-rights auction. The bidding in March 2016, with total bids valued at $22.7 million, was the smallest at that time.The industry's tough times are also reflected in the recent data of drilling permits.
Article continues below advertisement
Drilling permits and plans
Not a single drilling permit was issued in July 2016 for new wells in the shallow waters of the Gulf of Mexico. This was down from the previous month when one permit was issued. The deepwater permit count fell to three in July from June's six permits. A drilling permit gives oil companies approval to begin the process of drilling for wells. It's important to track drilling permits, as the number of permits gives us an idea of how future active rig counts and utilization rates might change.
A higher number of drilling permits suggests a better or improving outlook for offshore drilling (IYE) companies such as Ensco (ESV), Ocean Rig (ORIG), Seadrill (SDRL), Seadrill Partners (SDLP), Noble (NE), Transocean (RIG), Atwood Oceanics (ATW), Diamond Offshore Drilling (DO), Rowan Companies (RDC), and Pacific Drilling (PACD).
Returned and pending applications
In addition to new applications, returned and pending applications give us an idea of the probability of seeing permits approved in the coming months. However, returned applications may not be granted if companies fail to comply with safety regulations and standards.
In July 2016, 18 drilling applications were returned for further information or clarification. Also in July, 17 drilling applications were pending.