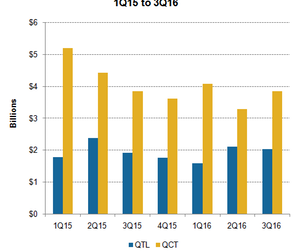 Qualcomm Determined to Continue Its Earnings Momentum into Q4
By Puja Tayal

Updated
Fiscal 4Q16 revenue guidance
In the previous part of this series, we saw that things are changing for Qualcomm (QCOM) as its key market China (FXI) grows. The company has reported strong guidance for fiscal 4Q16, with the momentum in China expected to continue.
For fiscal 4Q16, Qualcomm expects to report revenue of $5.8 billion at the midpoint, higher than the analysts' estimate of $5.7 billion and the fiscal 4Q15 revenue of $5.5 billion. This revenue is $200 million lower than the $6 billion reported in fiscal 3Q16, as the company recovered $200 million from the revenue lost due to underreported sales of Chinese handset makers. The fiscal 3Q16 revenue also includes $235 million in revenue earned from LG in the last two quarters but not reported due to an ongoing dispute over the licensing fee.
Article continues below advertisement
Qualcomm technology licensing
Qualcomm has resolved its dispute with LG over licensing fees, which will add $100 million to Qualcomm's quarterly revenue. Moreover, Qualcomm is now moving fast to get licensing deals for mobile and non-mobile devices. It recently signed licensing deals with China's OPPO for 3G and 4G technology and with automotive seating and electrical systems Lear (LEA) for wireless electric vehicle charging technology.
There is an upside potential of roughly $400 million if Qualcomm gets licensing deals from some of the handset makers it is currently in talks with. The company has not included this potential in its guidance. Moreover, it expects total reported device sales in fiscal 4Q16 to be $61 billion at the midpoint, lower than the $62.6 billion reported in fiscal 3Q16.
The chipset business
In the chipset business, Qualcomm expects MSM (mobile station modem) shipments to range between 195 million to 215 million, higher than the 203 million reported in fiscal 3Q16. This will be driven by demand from Chinese handset makers and Apple (AAPL).
According to a Bloomberg report, Qualcomm will no longer be Apple's sole modem supplier, as it will be sourcing some of the modems for the iPhone 7 from Intel (INTC). If this is true, it may not have a significant impact on Qualcomm's revenue, but will likely affect its profits. Next, we'll look at Qualcomm's profit position in fiscal 4Q16.