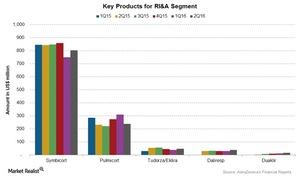 Performance of AstraZeneca's RI&A Segment in 2Q16
By Mike Benson

Aug. 24 2016, Updated 11:05 a.m. ET
RI&A segment
AstraZeneca's (AZN) respiratory, inflammation, and autoimmunity (or RI&A) segment is one of its growth platforms and a key focus area for development. The segment's contribution was 21.9% of total revenues in 2Q16. Some key products for the segment are Symbicort and Pulmicort. Newly added products include Tudorza/Eklira and Duaklir.
To strengthen its portfolio, AstraZeneca acquired Almirall's respiratory business and inhalation device subsidiary in November 2014. It acquired Actavis's, now Allergan's (AGN), branded respiratory portfolio for the United States and Canada in 2015.
Article continues below advertisement
Symbicort
Symbicort, another blockbuster drug from AstraZeneca, is a respiratory drug used to prevent bronchospasms in patients suffering from severe asthma or chronic obstructive pulmonary disease. Symbicort's revenues declined by 4% at constant exchange rates to $803 million in 2Q16. This followed lower demand due to increased competition from recently launched analogue medicines in Europe and pricing pressures from competition. Symbicort's revenues increased in emerging markets by nearly 33% during 2Q16.
Symbicort's competitor drugs include Advair from GlaxoSmithKline (GSK), Spiriva from Boehringer Ingelheim, Foradil from Merck & Co. (MRK), and Brovana from Sunovion Pharmaceuticals.
Pulmicort
Pulmicort is a respiratory drug used to prevent asthma attacks. Pulmicort's revenues increased by 6% at constant exchange rates to $239 million in 2Q16 following growth in emerging markets and China. Both Symbicort and Pulmicort have a growing demand across emerging markets, including China.
Other drugs, including Eklira and Duaklir, were added to AstraZeneca's portfolio as a result of the AstraZeneca-Almirall deal. Tudorza and Daliresp were acquired from the former Actavis (ACT), now Allergan (AGN). The performances of these drugs are in line with the company's expectations.
Investors can consider ETFs such as the iShares Core MSCI Europe (IEUR), which holds ~0.9% of its total assets in AstraZeneca, in order to divest the risk.