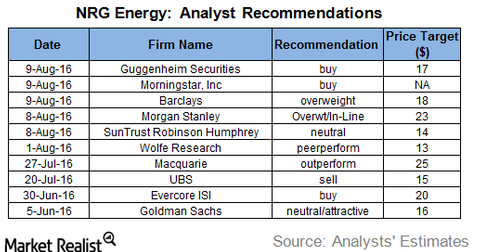 NRG and Other Merchant Power Players Offer Enticing Upsides
By Vineet Kulkarni

Updated
NRG Energy's price targets
According to Wall Street analyst estimates, NRG Energy (NRG) has an estimated upside of 39% in one year with a price target of $17.86. NRG is currently trading at $12.84.
Of the 15 analysts tracking NRG Energy, ten recommend a "buy," while three recommend a "hold." Two analysts have given the company a "sell" rating as of August 10, 2016.
The table below shows analysts' recommendations for NRG Energy. Interestingly, two analysts have given price targets of $25, which implies an estimated upside of nearly 100% with a holding period of just one year.
As for its peers, Calpine (CPN) has an estimated upside of 44% with a price target of $18.18. It's trading at $12.67. Dynegy (DYN) has a price target of $23, which implies an estimated rise of 82% from its current Market price of $12.61 as of August 9, 2016.
Investors should consider the risks associated with these stocks. Unlike traditional utilities (VPU), merchant power player stocks often have a high volatility, driven by their volatile earnings.
Article continues below advertisement
Outlook
Nominal load growth and increasing capacities, particularly at competitive prices, are likely to keep power prices sluggish. Energy efficiency programs are expected to negatively affect peak loads, thereby denting independent power producers' profits.
In the absence of growth in power demand, an increasing supply of power may not bode well for merchant power players. So the current bleak picture for these players may become bleaker in the near future.