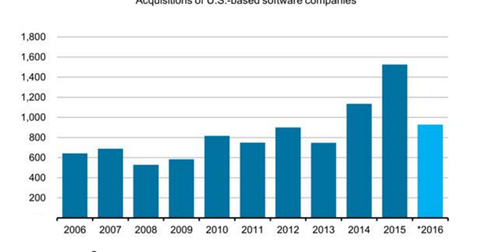 Mergers, Acquisitions Trend Likely to Continue for Oracle
By Anne Shields

Updated
Brexit and earnings falls have opened a window of M&A opportunities for technology players
Earlier in the series, we discussed the factors that urged Oracle (ORCL) to go ahead with the NetSuite acquisition. However, if we look at the recent trend in the technology space, Oracle's offer for NetSuite should not come as a surprise.
Moreover, looking at Oracle's recent bond deal and its cash reserves, it won't come as a surprise if Oracle announces more acquisitions after NetSuite.
Of late, it appears all the leading technology companies are trying to outpace each other in terms of the magnitudes of their acquisitions.
Article continues below advertisement
Moreover, the United Kingdom's (EWU) referendum results in favor of Brexit led to a fall in technology stocks. Since then, these major companies have recovered to some extent. However, some stocks have yet to recover. The low valuations of technology stocks may add to their appeal as potential acquisition targets.
Oracle's offer follows the current trend of massive acquisitions in the software space. Software companies are finding it a challenge to make the successful transition toward the cloud. In the words of Steve Koenig, an analyst with Wedbush Securities, increased M&A are an "existential necessity" for these companies' growths.
2016 is likely to outpace 2015's record in terms of acquisitions and deal value. According to a Wall Street Journal article, a group of cybersecurity stocks tracked by UBS has fallen by 22% in 2016. Similarly, Bessemer Venture Partners has an index comprising cloud software stocks, and it has fallen by ~7%. On the other hand, on July 8, 2016, the S&P 500 Index rose by 4.2%.
Dealogic estimates that 928 acquisitions of US-based software companies have already been announced in 2016. Last year, we saw a total of 1,526 deals announced. So far in 2016, the total deal value comes to $97.3 billion compared to $111.3 billion in 2015. This year's deal value includes Microsoft's $26.2 billion acquisition of LinkedIn.