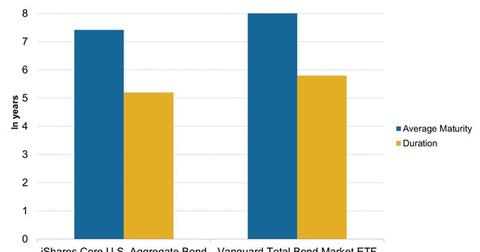 Looking at Richard Bernstein Advisors' Fixed Income Strategy
By David Ashworth

Updated
Reduction in duration 
Richard Bernstein Advisors has reduced its exposure to US Treasuries (TLT) (IEF) in the fixed income space. Also, it has markedly reduced the duration of its fixed income exposure. Duration measures the interest rate sensitivity of the price of a bond (AGG) (BND). The higher the duration, the more sensitive its price is to changes in interest rates.
Though Richard Bernstein didn't provide the exact numbers of the change of duration in his company's fixed income exposure, he did say that the duration had been reduced "quite dramatically." The reason for reducing duration ties in with the assumption that the corporate profit cycle has taken a turn for the better.
Article continues below advertisement
Why has duration been reduced?
The company believes that the worst of the US corporate profit recession happened in 4Q15. It believes that corporate profits will improve in 2016 and gain pace in 2017.
In an accelerating profit cycle, interest rates in a financial system tend to rise. As outlined above, longer duration is more sensitive to changes in interest rates. Hence, Richard Bernstein Advisors has sharply reduced the duration of its fixed income holdings.
According to the company, inflation expectations hit a trough in February 2016, along with the stock market bottom. However, the company is surprised to see investors rushing toward fixed income products at a time when inflation expectations have bottomed out.
Bernstein said that the company still has exposure to high yield municipal bonds (HYD), but this exposure has changed quite substantially. It was credit-focused three to four years ago, but at present, it's more traditionally focused on fixed income.
After outlining the changes in his company's fixed income exposure, Bernstein also talked about the commodities space and something the company has done that's unusual for it. Let's look at that in the next article.