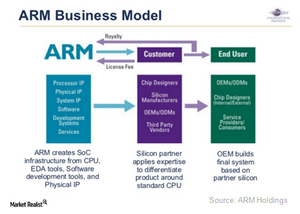 What's Intel's Strategy behind Partnering with Rival ARM?
By Puja Tayal

Aug. 31 2016, Updated 7:23 a.m. ET
Why did Intel partner with rival ARM?
Intel (INTC) has taken many bold decisions in fiscal 2016. It resorted to restructuring and exited the Atom mobile processors business. Now it's partnering with its rival ARM Holdings (ARMH) to manufacture ARM's Artisan Physical intellectual property on its 10 nm (nanometer) node. This partnership is part of Intel's strategy to cash in on its advanced manufacturing facilities by making them available to third parties, including its rivals.
This strategy is similar to Samsung's (SSNLF). Samsung manufactures chips and OLEDs (organic light-emitting diodes) for its rival Apple (AAPL). In this series, we'll see how Intel will benefit from the ARM partnership and what this deal means to foundries and their customers.
Article continues below advertisement
Foundry, a new revenue stream for Intel
Intel has been faced with declining PC (personal computer) sales and a slowdown in data center growth. Some media reports stated that reduced PC sales and higher inventory forced Intel to scale back production of its new PC chips in 2016. This could possibly lead to underutilization of the company's fabrication facilities (or fabs) and thus have a negative impact on its gross margins.
To make optimum utilization of its fabs, Intel entered the foundry business more than three years ago. Its customers include Altera, Spreadtrum, Achronix Semiconductor, and Netronome. The foundry business provides third parties access to Intel's services, including design, wafer manufacturing, packaging, and testing.
Details of the Intel-ARM deal
Under the Intel-ARM deal, Intel would manufacture ARM's 64-bit cores and other hardware at one of its fabs. ARM-based chips power almost 95% of smartphones used around the world. This partnership would enable Intel's foundry business to tap smartphone makers that use ARM-based designs. Intel has already secured an order from South Korea's second-largest handset maker, LG Electronics.
The partnership between two rivals has been touted for a very long time. Had this partnership taken place a few years ago, it would have come as a shock to the market. This raises the question of why Intel is partnering with ARM now. We'll look for the answer to that in the next part of the series.