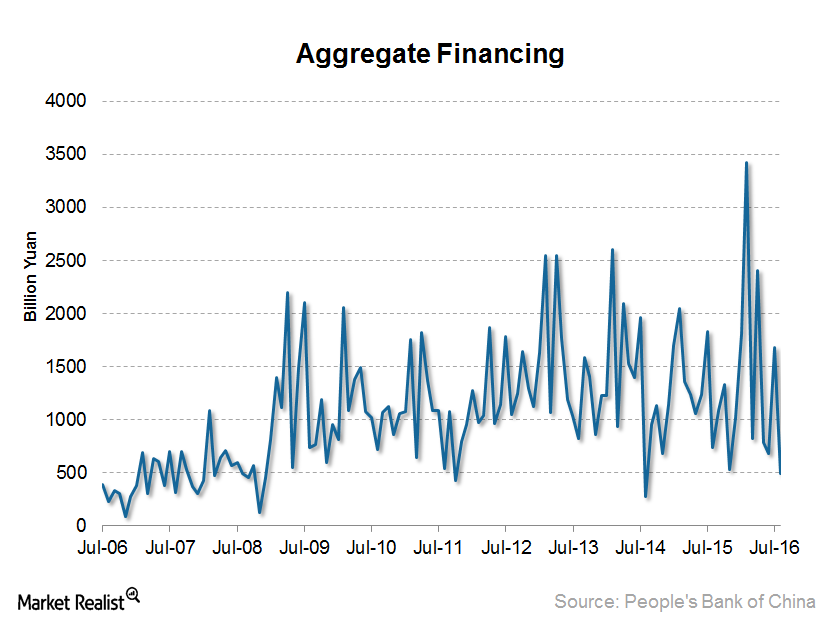 Why the IMF Believes China's Credit Growth Is Unsustainable
By Anuradha Garg

Sep. 2 2016, Updated 8:04 a.m. ET
China's credit metrics
Financing, or the level of credit available, is crucial to growth. It stimulates consumption and investments in an economy. By tracking the credit growth in China (MCHI), investors can gauge patterns that forecast future demand.
Article continues below advertisement
Decline in aggregate financing 
Aggregate financing measures liquidity by adding the total funds provided by a financial system to non-financial sectors and households.
China's aggregate financing amounted to 488 billion Chinese yuan in July 2016, down from ~1.7 trillion yuan in June. The decline was more severe than what was expected by the economists.
New yuan loans declined
According to the People's Bank of China (or PBoC), new loans issued by Chinese banks fell from 1.4 trillion yuan (or $206 billion) in June to 463.6 billion yuan in July.
M2 money supply rises at slow pace
The broad money supply rose by 10.2% year-over-year (or YoY) in July, which is the slowest pace of growth since April 2015. M2 includes cash, checking deposits, savings deposits, money market mutual funds, and other time deposits.
Month-over-month, the credit metrics in China have been quite volatile but overall in 2016, the loan and aggregate financing growth remain strong. This indicates that the PBoC is extending its support to the Chinese economy. 
However, the International Monetary Fund (or IMF) has warned China about the risks of unsustainable credit growth and financing weak firms. According to the IMF mission chief for China, "China's corporate debt is still manageable, but at approximately 145 percent of GDP, it is high by any measure."
If the government keeps its policy less supportive in the future, pressure could return to steel mills and seaborne iron ore players. These players include BHP Billiton (BHP) (BBL), Rio Tinto (RIO), Vale SA (VALE), and the Asia-Pacific division of Cliffs Natural Resources (CLF).
BHP's listings form 6.3% of the iShares Commodities Select Strategy ETF (COMT).