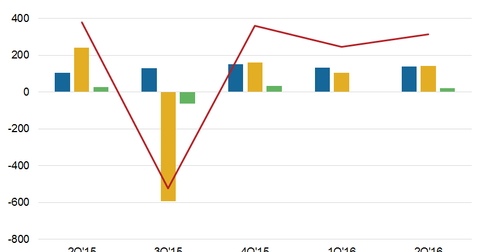 Higher Growth Expected from Blackstone's Private Equity in 3Q16
By Robert Karr

Updated
Blackstone's PE
The Blackstone Group's (BX) private equity and core business has remained stable over the past three quarters after posting steep losses in 3Q15. However, its performance has been lackluster and not as strong as in the first quarter of 2016. The company is expected to see positive change in the trend with improved performance fees in the September quarter.
Blackstone reported an economic income of $132 million in its private equity division for the quarter ending in June. Its total revenue was $313 million, compared with $385 billion in the same quarter last year. Blackstone's private equity portfolio value rose 2.5% over the previous quarter, which was mainly due to public portfolio appreciation.
Hilton holdings rise
Domestic equity (IVV) improved marginally after the stock market rout at the beginning of 2016. The company's holding in Hilton Worldwide (HLT) has risen by 8.1% in the current quarter to date.
The division's assets under management expanded 8% over the same quarter last year to $100 billion as of June 30, 2016. Its fee earnings from assets under management expanded 40% to $69 billion during the same period due to the commencement of investment periods of various flagship funds across the segment, which helped drive fee revenues to rise 31% year-over-year.
In 3Q16 to date, Blackstone's major holding, Zimmer-Biomet (ZBH), rose 6.6%. NXP Semiconductors (NXPI) rose 11.6%, Brixmor Property Group (BRX) rose 4.1%, and The Michaels Companies (MIK) fell 10.9%.
The company's private equity portfolio rose by 9.5% in 2015 while the S&P 500 fell 0.7% during the same period. The division's performance income stood at $142 million in 2Q16 versus $241 million in the previous quarter.
Return on deployments
In 2Q16, Blackstone achieved total realizations of $3.8 billion on public and strategic exits in corporate private equity funds. Blackstone raised commitments of $7.1 billion for the private equity segment in the second quarter. The amount included the initial close for the seventh secondary fund and the core private equity fund with total third-party commitments reaching $19.5 billion over the past 12 months.
The company deployed new capital of $1.6 billion during the quarter. This total included the closing of several new investments and synergistic add-on investments to existing platform deals. Blackstone has been aggressive in terms of fund deployment when the market offers attractive valuations. The company has stronger dry powder (undrawn capital) than alternatives such as The Carlyle Group (CG) and KKR (KKR).
Next, let's see how Blackstone is attracting record capital in the real estate space.
Article continues below advertisement