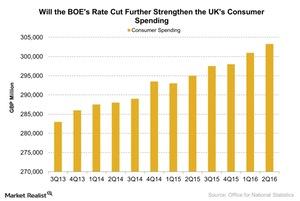 What Will Drive Consumerism in the UK after Brexit?
By Sarah Sands

Updated
Impact on the UK after its exit from the EU
After the UK's exit from the European Union (EZU) (HEDJ), it is expected that the country's economic activity will fall. The trade flow and the capital flow from the European Union will also fall. The UK companies will also face various taxes during the movements of goods and services to the member countries of the European Union. It will also affect the easy migration and the labor market.
Article continues below advertisement
What will drive consumerism in the economy?
However, many British citizens voted to leave the European Union because they believed that jobs for local UK residents are getting harder to find, as the EU allows free movement of people within member countries. Now we can expect that there will be more jobs available to UK citizens. There will be some improvements in the UK's labor market. In this environment, lower interest rates will be an added advantage for the economy. Improvement in the labor market and lower interest rates will boost consumer spending in the economy. The central bank reduced its key interest rate to protect the economy from the Brexit fallout.
In every economy, consumerism plays an important role. It's known as the backbone of the economy. If the economy experiences an improvement in consumer spending due to the central bank's lower interest rate, then major UK-based companies such as Unilever (UN), SABMiller (SBMRY), and Diageo (DEO) will benefit.
Post Brexit, the UK will be free to enter into new bilateral and unilateral trade agreements with countries. This change will:
expedite the process of trade and negotiations that were earlier subject to the EU rules
lead to increased competitiveness, thereby benefiting both producers and  consumers based in the UK
increase the buying power of consumers with respect to imported goods
In the next part of this series, we will analyze what forced the Bank of England to cut the interest rate.