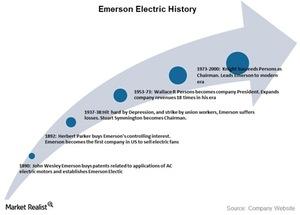 How Emerson, a Small-Time Motor Maker, Became an Industrial Giant
By Shannon Black

Updated
Origins of Emerson Electric
Emerson Electric (EMR) was founded in 1890 by John Wesley Emerson, who used a patent owned by two brothers to manufacture electric motors. In just two years, in 1892, Emerson became the first company to sell electric fans in the United States. The company underwent a leadership change in 1892, and by the 1920s, it had expanded into other products such as electrical sewing machines, dental drills, and power tools.
Article continues below advertisement
Depression and revival
Emerson was hit hard during the Great Depression when its relationship with its union deteriorated. The company's fortunes were resurrected by Stuart Symington for a few years and later under W.R "Buck" Persons. Persons was brought into Emerson from Lincoln Electric Holdings (LECO), a company known for efficiency at that time.
During Persons' tenure from 1954 to 1973, Emerson acquired 36 companies, and sales increased from $45 million to $800 million. The company had been transformed from a small-time maker of electric motors and appliances to an industrial (XLI) giant. Persons was succeeded by Charles F. Knight, who had been a consultant with Emerson for ten years. Knight provided continuity to the company's momentum.
Emerson Electric from the 1980s
In the 1980s, Emerson entered new lines of businesses such as commercial refrigeration, air conditioning, and electronics (IYW) component systems. Knight used his international experience to take the Emerson brand to new markets and geographies by entering into partnerships with local market leaders.
Knight was succeeded by David Farr, who has served as CEO (chief executive officer) of Emerson since 2000. Under Farr, the company moved its operations to low-cost, low-regulatory environments, improving its cost structure. Institutional Investor has twice ranked Farr one of the best CEOs in the United States. In 2011, Farr was elected to the board of directors of IBM (IBM).