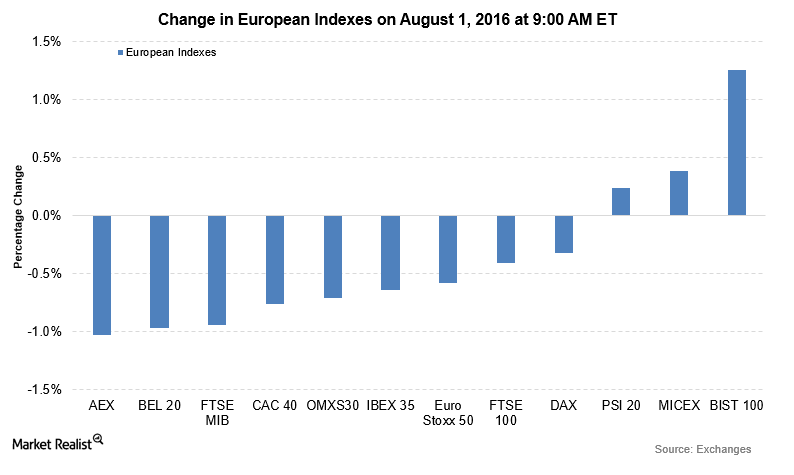 EBA Stress Test: More Resilience in the European Banking System
By David Meyer

Aug. 1 2016, Published 12:34 p.m. ET
Key takeaways from the EBA stress test
The EBA stress test results for the European Union (EZU) are based on 51 banks. The results were published by the EBA (European Banking Authority) on July 29, 2016. These 51 banks cover close to 70% of the banking assets across the EU (European Union). The EBA stress test suggested that the resilience in European banking improved—compared to 2014.  Out of the 51 banks that underwent the EBA stress test, 37 are directly regulated by the ECB (European Central Bank). The report suggested that the average common equity tier 1 capital for these 37 banks rose to 13%—compared to 11.2% in 2014.
Article continues below advertisement
Daniele Nouy, the chair of the ECB's supervisory board, thought that the EBA stress test results clearly show that the banking sector is better prepared to face economic shocks—compared to two years ago. The report indicated that the Italian Bank, Monte dei Paschi di Siena, was the weakest among the pack. The report also noted a fall in capital in the United Kingdom's Royal Bank of Scotland (RBS) when subjected to the worst-case scenario.
European markets start the week on a positive note
European indexes were broadly trading on a negative bias on August 1, 2016. Looking at the major indexes, the German DAX fell by 0.32%, while the French CAC 40 fell by 0.76% as of 9:00 AM EST. The Russian and Turkish indexes were among the few markets that posted gains. The Russian MICEX rose by 0.39%, while the Turkish BIST rose by 1.3%.
Among other major European indexes, the Euro STOXX 50 (FEZ)—a Eurozone blue-chip stock index—rose by 1.3%.
Impact on the market
Looking at the performance of the United Kingdom and European ETFs on August 1, the Vanguard FTSE Europe ETF (VGK) and the WisdomTree Europe Hedged Equity Fund ETF (HEDJ) fell by 0.56% and 0.64%, respectively, as of 9:30 AM EST on August 1.
Among other major European ETFs, the iShares MSCI Eurozone ETF (EZU) and the iShares Europe ETF (IEV) fell by 0.71% and 0.74%, respectively, during early trade.