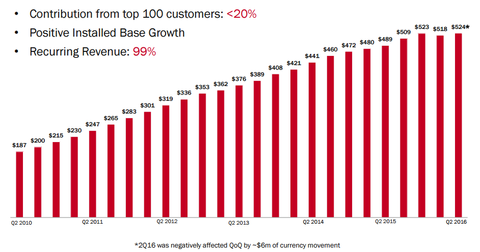 Why Rackspace Agreed to Be Bought Despite Strategic Divestment
By Anne Shields

Updated
Rackspace tried overhauling and streamlining before accepting sale
In 2014, prior to its sale to Apollo Global Management, Rackspace (RAX) considered various alternatives, ranging from partnerships to acquisitions. But after considering the alternatives, Rackspace chose to sell.
In its fiscal 2Q16 earnings release, Rackspace announced that the company sold Cloud Sites, its web-hosting business to Liquid Web. Financial details of the deal were not disclosed. Before Cloud Sites, Rackspace sold Jungle Disk, its online backup service, in January 2016.
Article continues below advertisement
Rackspace's management highlighted that these units were non-core businesses and are thus divested by the company to sharpen its focus on cloud services. Exceptional Cloud Services, which the company bought in 2013, was considered one of the company's non-core business. Thus, Rackspace Hosting systematically divested its units, shifting its focus from data-center hosting and "non-core business" toward the rapidly growing cloud space.
Rackspace changed its strategy but failed to stay afloat
Rackspace even twisted its business model and partnered with Amazon to operate in the cloud space. As a managed service provider, Rackspace now resells the capabilities offered by Amazon's AWS, Microsoft Azure, and Google's (GOOG) Cloud Platform.
In mid-July 2016, Rackspace stated that its "fanatical support" (or support and service) had surpassed 300 Amazon (AMZN) AWS (Amazon Web Services) certifications. Rackspace launched its fanatical support for Microsoft's (MSFT) Azure in 2015.
Although Rackspace has increased customer signings from Amazon's AWS and Microsoft's Azure, it seems these actions were not enough to keep the company afloat, which is why Rackspace agreed to the Apollo buyout. The above chart shows Rackspace's quarterly revenues. Although Rackspace reported revenue growth, the growth has slowed down. Rackspace revenues, which grew by 24% on a YoY (year-over-year) basis in fiscal 2Q11 to $489 million, grew by only 7% in fiscal 2Q16 to $524 million.