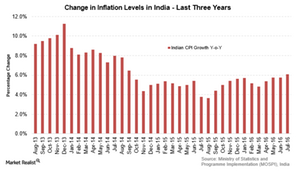 Deputy Governor Urjit Patel Is the RBI's New Chief
By David Meyer

Updated
Urjit Patel
Urjit Patel was announced as the RBI's (Reserve Bank of India) 24th governor. He's serving as Raghuram Rajan's lieutenant. Urjit Patel has worked under Rajan as the deputy governor. He's expected to provide continuity to the policies set forth by his predecessor. The policies brought the inflation levels to half of what they were three years ago. Urjit Patel is expected to keep liquidity levels tightened to make sure consumer prices remain in control during his upcoming three-year tenure. Even though the monsoons have shown good results in most of the country, persistent high food inflation might force Patel to keep the monetary policy tightened.
Article continues below advertisement
Market is expected to be positive
In various markets (INDA) (EPI) (EEM), domestic and foreign institutional investors are optimistic about Urjit Patel's appointment as the RBI's new governor. They are positive about economic growth prospects because seamless continuity is expected in the RBI's practices. If a person from the political or bureaucrat circles had been selected for the post, there would have been questions about the credibility of the Finance Ministry and the RBI. However, it's a victory for the hawks. Patel is expected to have a low tolerance for inflation levels reaching outside the RBI's comfortable zone of 4% (+/-2%). Retail inflation has already risen to two-year high levels. It released at 6.1% for July.
Challenges ahead
On one hand, the new governor needs to keep the faith by continuing to reinforce monetary policy reforms undertaken by his predecessor Raghuram Rajan. His viewpoint on the macroeconomic environment will be very important. Also, the transmission of rates by the banks (IBN) (HDB) is a challenge that Urjit Patel will continue to face. While the RBI reduced interest rates by 150 basis points since the beginning of last year, Indian banks haven't been able to pass on the lower rate benefit to the end consumers. The rise in the non-performing assets levels on banks' balance sheets needs to be kept in control because sluggish growth has been instrumental in the increase in bad loans. Also, the RBI's monetary policy committee will make more decisions on interest rates. This will leave the "no veto" power with Urjit Patel.