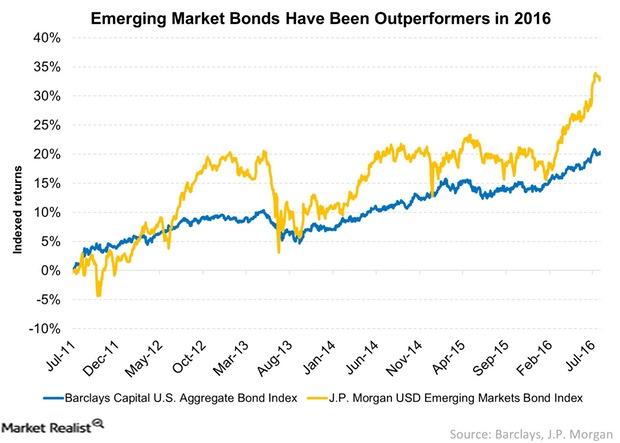 Complementing Global Bond Portfolios with Emerging Market Bonds
By VanEck

Aug. 4 2016, Updated 9:06 a.m. ET
Investors may also want to consider a small allocation to BB rated emerging markets countries. These higher-rated high yield issuers provide incremental yield while also allowing investors to maintain exposure to "fallen angel" countries (whose credit ratings have dropped below investment grade) such as Russia and Brazil, which are among the largest emerging markets issuers. Along with the potential yield pickup, improving credit fundamentals may contribute positively to returns over time.
Article continues below advertisement
Complement Your Global Bond Portfolio
Adding U.S. dollar-denominated investment grade emerging markets bonds to a global bond portfolio can add yield and diversification, without a significant increase in credit and currency risk.
VanEck VectorsTM EM Investment Grade + BB Rated USD Sovereign Bond ETF (IGEM) (the "Fund") provides access to the higher rated subset of the broad U.S. dollar-denominated emerging markets sovereign bond universe.
Market Realist – Should you consider investing in "fallen angel" bonds?
The graph above compares the performance of the Barclays Capital U.S. Aggregate Bond Index, which comprises the total US investment-grade bond market, with the J.P. Morgan USD Emerging Market Bonds Index, which comprises US dollar–denominated emerging market bonds. As you can see, the latter index has outperformed the former with returns of 12.2% versus 5.6%.
As we mentioned earlier, Brazilian and Russian sovereign bonds are some of the highest-yielding bonds among emerging market sovereign bonds (EMAG)(HYEM). They're rated BB and BB+, respectively, by S&P. Plunging commodity prices affected both these economies adversely, causing a downgrade in their credit rating.
However, a bounce-back and stabilization in commodity prices since February 2016, and signs of stabilization in the Chinese economy (CNXT)—a massive market for commodities—have stabilized yields for Brazilian and Russian sovereign bonds.
Depending on risk profile, investors might consider investing a small portion of their portfolios in these "fallen angels" (ANGL). Fundamentals seem to be improving while currencies are more stable now.