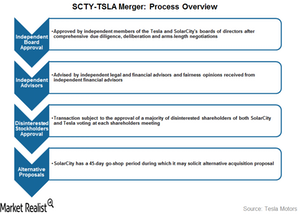 Zeroing in on Details of SolarCity's Merger Agreement with Tesla
By Sheldon Krieger

Aug. 3 2016, Published 7:18 a.m. ET
Transaction overview
According to the terms and conditions of the merger agreement, Tesla Motors (TSLA) is set to acquire SolarCity in an all-stock transaction. SolarCity's shareholders will receive 0.11 shares of Tesla Motors for each share of SolarCity. However, no fractional shares of Tesla Motors' common stock will be issued in the merger. SolarCity's stockholders will receive cash in lieu of any fractional shares. The merger transaction is expected to close in the fourth quarter of 2016, subject to the approval of a majority of both companies' minority shareholders. Until then, SolarCity and Tesla Motors will continue to operate as independent companies.
Article continues below advertisement
Process overview
SolarCity entered into the proposed merger agreement after comprehensive review by a special committee. However, according to the terms and conditions of the agreement, SolarCity has a 45-day go-shop period during which it may solicit alternative third-party acquisition proposals. After the go-shop period, SolarCity will become subject to customary no-shop restrictions, per the terms and conditions of the merger agreement.
The termination clause
According to company filings, the merger agreement contains certain termination rights for both Tesla Motors and SolarCity if the proposed transaction is not completed on or before April 31, 2017. If SolarCity terminates the merger agreement in order to enter into an agreement with a third party, SolarCity will pay a termination fee to Tesla Motors. However, the termination fee is dependent upon whether the merger agreement is terminated to accept a superior proposal from a third party identified during the go-shop period or for another reason.
SolarCity competes with Sunrun (RUN), Vivint Solar (VSLR), and SunPower (SPWR) in the downstream solar (TAN) industry.
In the next part of this series, we'll look at SolarCity's preannounced 2Q16 operating metrics and revised 2016 guidance.