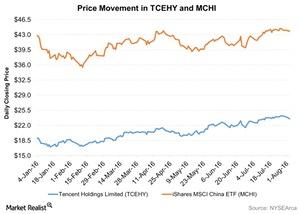 China Suppresses Freedom of Expression, Tightens Media Control
By Lynn Noah

Updated
China bans online media reporting of original news
In an effort to suppress non-government-approved information, China has banned several Internet news sites from reporting original news. According to Chinese law, journalists of privately operated Chinese news portals are allowed to report only government-approved political news. They're allowed to cover sports or entertainment news events.
The Chinese government has now shut down several online news operations of companies such as Sohu.com, Sina (SINA), Tencent Holdings (TCEHY), and NetEase (NTES). This came after authorities accused operators of independently reporting and publishing articles about potentially sensitive subjects.
According to a report that appeared in The Paper on July 24, 2016, Bloomberg reported that Chinese companies have "seriously violated" Internet regulations by carrying plenty of news content obtained through original reporting, causing "huge negative effects."
Tencent Holdings (TCEHY) is the top holding of the iShares MSCI China (MCHI). It accounts for 13.2% of MCHI as of August 2, 2016. The ban on reporting original news had an almost muted impact on its stock price.
Article continues below advertisement
Suppressing freedom
The ban on online news shows how China's President Xi Jinping aims to have tight control over the news of its government ahead of next year's Congress. In February 2016, he said that Chinese media should work in the interests of the Communist Party. He said, "They must love the party, protect the party, and closely align themselves with the party leadership in thought, politics and action."
Although China has emerged as an economic superpower over the years, its suppression of freedom of expression may be difficult for the country to sustain in the long run. Freedom of expression is certainly one of the significant contributors to the happiness index of citizens and also the prosperity of the economy.