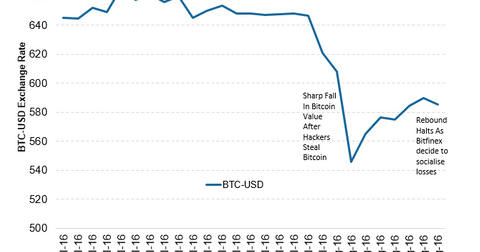 Why Bitcoin's Rebound Stopped after Bitfinex's Statement
By David Meyer

Aug. 9 2016, Published 7:22 a.m. ET
Bitcoin and bitfinex
Bitcoin is one of the most commonly used digital currencies. It had been on an upward trajectory after the sharp fall on August 3 when hackers stole $65 million worth of bitcoins from the Bitfinex exchange. For more details on the heist, read Bitcoin Prices Fall, Hackers Reportedly Stole Bitcoins Worth $65 Million. The rebounding trend was halted on August 8 after Bitfinex released a statement on how the losses will impact its users. Bitcoins are widely used for online payments. For more details on the history and evolution of bitcoins, read How Bitcoins Have Evolved.
Article continues below advertisement
Bitfinex issue statement on generalization of bitcoin losses
Bitfinex announced in a statement that it will generalize losses across its users. This would mean that Bitfinex users will experience ~36% losses on their Bitcoin assets. The statement added that more details on how the 36% was decided will be announced later. Also, Bitfinex will be giving customers tokens in accordance to the losses suffered. These tokens will be redeemed by Bitfinex in the future or customers can exchange them for shares in Ifinex.
Impact on bitcoin–related stocks
Companies like WPCS International (WPCS) will be among those that are most sensitive to updates on bitcoins. It owns a bitcoin trading platform. It rose by 2.0% after Bitfinex's statement released on August 8. Other stocks that would be impacted are pro-bitcoin companies like Tesla Motors (TSLA), Zynga (ZNGA), and eBay (EBAY).
Looking at major e-commerce companies, PayPal Holdings (PYPL) fell by 0.50%, while Alibaba Group Holdings (BABA)  rose by 0.48% on August 8. Groupon (GRPN) registered notable gains for the day—it rose by 3.0%.