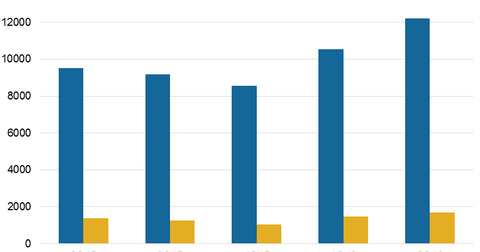 Berkshire Hathaway's Manufacturing Rose on Precision Castparts, Duracell in 2Q
By Robert Karr

Aug. 12 2016, Updated 9:05 a.m. ET
Impact of new businesses
Berkshire Hathaway's (BRK-B) subsidiaries are engaged in industrial (VIS), building products, and apparel businesses. They manufacture industrial and end-user products. Examples of subsidiaries in this space include the following:
Lubrizol, a specialty chemical manufacturer
IMC International Metalworking Companies, an industry leader in metal cutting tools businesses with worldwide operations
Forest River, a leading manufacturer of leisure vehicles
CTB, a manufacturer of equipment and systems for the livestock and agricultural industries
Berkshire Hathaway's main strategy is to acquire businesses to expand or add value to them. In 2015, Warren Buffet added Precision Castparts (PCP) to Berkshire Hathaway's manufacturing portfolio for about $32 billion.
In 2Q16, the company's manufacturing business reported revenues of $12.2 billion, as compared to $9.5 billion during the same quarter in 2015. The growth includes revenues of Precision Castparts and Duracell, excluding acquisitions growth declined 1% on a year-over-year basis.
The division reported earnings before taxes of $1.7 billion, compared to $1.4 billion during the previous year's corresponding quarter. The business generates more profitability on average than the overall company.
Article continues below advertisement
McLane and volume business
McLane is a high-volume, low margin business. In 2012, it acquired Meadowbrook Meat Company, a large food service distributor for national restaurant chains. Berkshire Hathaway acquired McLane from Walmart (WMT) for $1.5 billion in 2003.
Berkshire Hathaway reported revenues of $12.0 billion and profits of $129 million for McLane in 2Q16, as compared to revenues of $12.2 billion and profits of $147 million in 2Q15. The year-to-date decline was primarily due to a 2% reduction in grocery sales, partly offset by a 3% increase in food service sales.
McLane operates a wholesale distribution business that provides grocery and non-food products to retailers, convenience stores, and restaurants. The company also operates as a wholesale distributor of distilled spirits, wine, and beer. Its clients include Walmart, 7-Eleven, and Yum! Brands (YUM).
Continue to the next part for our discussion of Berkshire's performance in services and retailing.