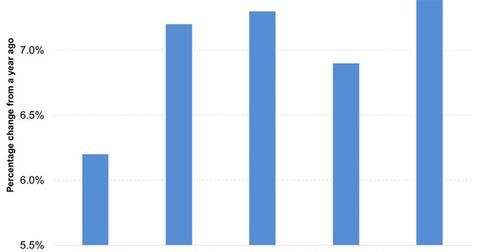 Barring External Demand, India's Economy Looks Solid
By David Ashworth

Aug. 11 2016, Updated 8:06 a.m. ET
Economic growth remains solid
Growth in the Indian economy remained solid in the January to March quarter of 2016. In India, a financial year starts in April and ends in March of the next year—this makes the previously mentioned period the fourth quarter of fiscal 2015–2016. During that period, the GDP rose by 7.9%, while the GVA (gross value added) rose by 7.4%. The relationship between GDP and GVA is:
GDP = GVA + taxes on products – subsidies on products
The base year for calculating GVA is 2011–2012. It was changed from 2004–2005 used earlier.
Article continues below advertisement
RBI is positive on India's economy
In its August 2016 monetary policy statement, the RBI (Reserve Bank of India) sounded positive about growth in India's economy going forward. It expected the momentum of economic growth to increase due to good monsoon rains. The rains are expected to result in a good crop and an increase in demand from rural India.
The RBI also expects consumer spending to go up because of the increase in pay, pension, and arrears on the implementation of the seventh central pay commission.
Recently the GST (Goods and Services Tax) was passed in both the upper and lower houses of the Parliament. Although timely implementation challenges remain, the RBI feels that it bodes well "for the growing political consensus for economic reforms." The central bank expects the GST to "raise returns to investment across much of the economy" apart from helping government finances over the medium term.
However, it does see a challenge in the form of external demand. Citing downgrades to global economic growth projections (VT) (ACWI) by multilateral agencies and weak trade, the RBI expects external demand to loosen more. This would be bad news for India's exporters like Infosys (INFY), Wipro (WIT), and Tata Motors (TTM).
Monetary policy transmission still remains a concern for the RBI. We'll discuss the RBI's concerns in the next part.