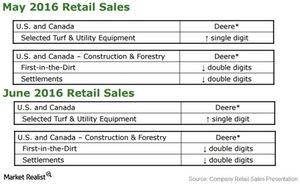 Why Was There Bad News in All of Deere's Segments?
By Shannon Black

Updated
Construction equipment sales were weak 
The monthly retail figures for construction (ITB) equipment sales released by Deere & Company (DE) and Caterpillar (CAT) show a continued fall, despite the upturn in construction (XHB) and the increase in construction spending in 2016. The contrasting picture stems, in part, from the glut in construction machinery. More excavators and backhoes are being pulled from servicing the oil and gas market.
Article continues below advertisement
Caterpillar's YoY (year-over-year) monthly retail sales in construction equipment in North America fell by 9%, 11%, and 8% in April, May, and June 2016, respectively. This is worse than the declines of 1%, 3%, and 9% in the first three months of the year. Terex (TEX) is a major competitor in the construction equipment business. It doesn't publish a monthly retail sales report.
Deere's retail sales
In its May and June retail sales report, Deere reported double-digit declines in both first-in-the-dirt and settlement sales. "First-in-the-dirt" is the first transaction of a new machine. It represents the combination of new retails and first rentals. "Settlement" refers to the combination of new retails and rental conversions. The number of settlements is seen as the number of final deliveries achieved in the month.
"New retail" refers to the transfer of a new machine from a dealer to an end user and from Deere to independent rental companies. First rentals are the number of units rented to the first user from the units owned by Deere under rental programs. "Retail conversion" refers to the sales of a previously reported first rental to an end user.