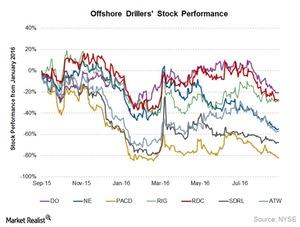 Bad News Continuesd for Offshore Drillers in August
By Sue Goodridge

Nov. 20 2020, Updated 4:43 p.m. ET
Stock performance of offshore drillers
August didn't bring any good news for the offshore drilling industry. All stocks had negative returns. Most offshore drilling companies have released their second quarter results. In the conference calls, no company predicted a turnaround, at least in the near term.
Ocean Rig's (ORIG) share price fell by 62% on the day it released its second-quarter results. It was the worst performer in August among the pool of offshore drillers.
Article continues below advertisement
Stock performance of offshore drillers
The following is a summary of the stock price movement for offshore drillers (XLE) so far this month as of August 29, 2016:
Series focus
As we've seen, offshore driller stocks have fallen significantly in August. It's important to see whether the underlying fundamentals of the industry have changed. In this series, we'll analyze indicators that you can track to get a sense of the offshore industry's direction.
We'll look at how the slump in oil prices affected E&P (exploration and production) companies' capex (capital expenditure) and what it means to the offshore drilling industry. We'll analyze the latest oil and gas lease rights sale for the Gulf of Mexico.
We'll end the series by looking at the offshore drilling industry's valuation and analysts' views on offshore drilling companies.