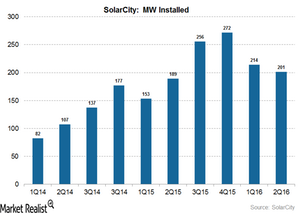 How SolarCity's 2Q16 Operating Metrics and Fiscal 2016 Guidance Look
By Sheldon Krieger

Updated
The announcement
On August 1, 2016, SolarCity (SCTY) preannounced its 2Q16 operational performance and updated its 2016 guidance. The company is scheduled to release its detailed 2Q16 earnings on August 9, 2016.
Article continues below advertisement
SolarCity's MW installed and 2016 guidance
For 2Q16, SolarCity reported its MW (megawatts) installed at 201 MW, compared to 214 MW in 1Q16 and 189 MW in 2Q15. This is about 16% above SolarCity's 2Q16 MW installation guidance of 185 MW.
However, the company revised downward its 2016 MW installation guidance from 1.0–1.1 gigawatts at the end of 1Q16 to 0.9–1.0 gigawatts. The revision in guidance was mainly due to lower 1H16 bookings as a result of the elimination of the net metering system in Nevada and its spillover impact on other states. This also led to the market exit of SolarCity and its peers Sunrun (RUN) and Vivint Solar (VSLR) from the state. However, SunPower (SPWR) didn't exit the market.
Moving forward, SCTY anticipates improving its MW installations through the launch of two new products in 2H16. Per an announcement by the company, these products include an integrated solar and storage offering and a new solar product focused on 5 million new roofs installed each year in the United States.
MW booked
According to the company's preannouncement, SolarCity's MW booked during 2Q16 came in about 40% higher than its 1Q16 MW bookings. The increase in MW bookings was primarily due to sales process improvements and the introduction of a new loan offering begun in 2Q16.
The amount of MW booked includes the total capacity of solar (TAN) energy systems sold to customers or subject to an executed customer agreement after considering cancellations during the applicable period. Selling and marketing costs can be estimated using this operating metric. Higher MW booked could imply lower selling and marketing costs per watt.